Kayla Koslosky
| ChristianHeadlines.com Editor
| Wednesday, April 20, 2022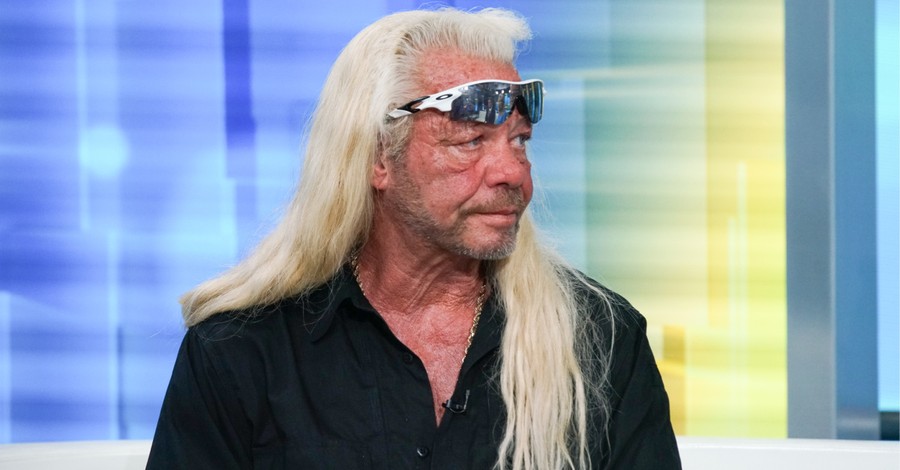 Last week, reality TV Show star Dog the Bounty Hunter – whose real name is Duane Chapman – took to the Masked Singer stage for the last time to perform the popular Christian hymn, Amazing Grace.
Chapman, who has been outspoken about his Christian faith, took to the popular masked celebrity singing competition show dressed as an armadillo to deliver an emotional rendition of Amazing Grace.
Despite being eliminated later in the show, judges Nicole Scherzinger and Robin Thicke appeared visibly moved by Chapman's performance.
With tears in her eyes, Scherzinger told Chapman that his rendition of Amazing Grace was one of the bests she's ever seen because she could tell that he believed in the words he was singing, and so did she.
Thicke also commented on Chapman's performance, noting that the hymn is special to him because it got him through a difficult time in his life. He also revealed that he sings Amazing Grace to his son nearly every night before bed.
According to Chapman, Amazing Grace was his mother's favorite song.
Hollywood Life reports that Chapman's song choice was very intentional.
"I am trying to be a Christian, so [Fox and I] negotiated a Christian song, and that song happened to be my mother's most favorite. It really was very emotional for me to show my faith, that Fox is cool enough to do that to anybody," Chapman told the outlet.
Chapman also pointed to the Lord after he took a dramatic fall during a performance earlier in the season.
"I don't know why I fell. I think evil pushed me down because they didn't want me to sing that song, and they even had to help me out in the chair. That thing was over 200 pounds," Chapman told Hollywood Life. "I couldn't stand up by myself. So how I ever stood up like that, I know that in my world, the angels grabbed me and said, 'Get out there.' So I was petrified. Francie (Chapman's wife) and I had just watched the Olympic skier who jumped that big jump, but right at the end, she fell, and that went right through my mind. I thought you better get up. You've been pushed out of life before, and you have always stood up. I don't know what happened. Adrenaline and the Lord took over," he said.
Chapman also opened up about how challenging the show is, noting that the costumes are exceptionally heavy, and performers cannot really see through the costumes.
"You can't see. You can't walk," and the costume's head was a "foot taller" than Chapman. "So, you're actually talking around the neck, but you've got to act like you're not. You cannot see. No one can. You've got to go out there blindfolded and depend on God and your hidden talent," he concluded.
Related:
Dog the Bounty Hunter's Faith Drove Him to Join Manhunt of Brian Laundrie, Spokesperson Says
Chris Pratt's Christian Faith Is Mocked Online following Thor: Love and Thunder Trailer Release
Michael W. Smith Releases New Single 'Cry of Hope' to Raise Money for Ukraine
Viral Video of Christians Singing 'How Great Is Our God' on Flight Draws Mixed Responses
'Jesus Is the Way': Kathy Lee Gifford's New TV Series Spotlights Conversations about Faith
Photo courtesy:
Video courtesy: ©The Masked Singer
---
Kayla Koslosky has been the Editor of ChristianHeadlines.com since 2018. She has B.A. degrees in English and History and previously wrote for and was the managing editor of the Yellow Jacket newspaper. She has also contributed to IBelieve.com and Crosswalk.com.
---
---