Kayla Koslosky
| ChristianHeadlines.com Editor
| Monday, November 12, 2018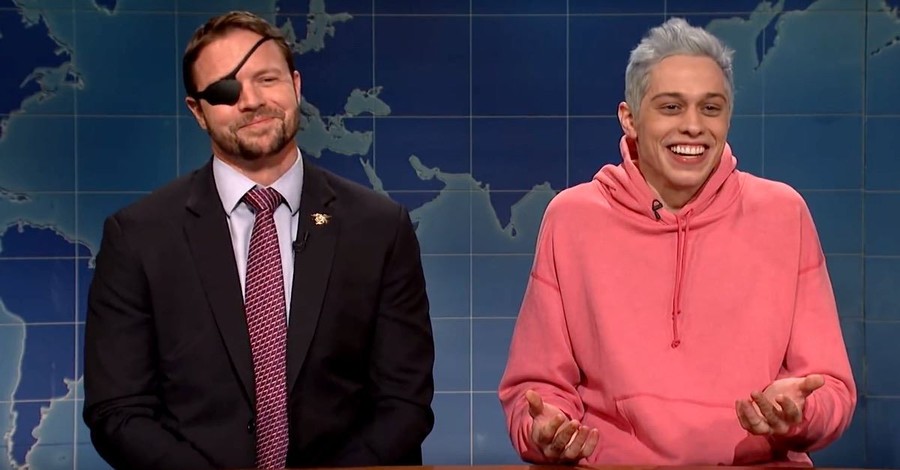 After Saturday Night Live Comedian Pete Davidson cracked a controversial joke about Former Navy Seal and newly elected Republican Texas Congressman Dan Crenshaw last week, the war veteran appeared on SNL to make amends with Davidson.
Before the mid-term elections last Tuesday, SNL aired an episode where Pete Davidson compared the war veteran to a "hit man from a porno movie." Crenshaw, who lost his eye when an IED explosion during his third tour in Afghanistan, wears an eye-patch, a detail that Davidson used as the center of his joke.
After this episode aired, Davidson and SNL, who received heavy backlash for the insensitive joke, received a response from the Congressman-elect. 
In a video message posted by Crenshaw, he said, "I want us to get away from this culture where we demand apologies every time someone miss speaks. I think that would be very healthy for our nation to go in that direction."
Crenshaw continued encouraging people not to be angry with Davidson and SNL saying, "We don't need to be outwardly outraged. I don't need you to demand apologies from them, they can do whatever they want. They're feeling the heat from around the country right now and that's fine."
He added, "But I would like him (Pete Davidson) and Saturday Night Live to recognize something. That Veterans across the country probably don't feel as though their wounds they received in battle should be the subject of a bad punchline for a bad joke."
Following the release of this video and the conclusion of the mid-term elections, which landed Crenshaw a seat in congress, SNL invited the Congressman-elect on the show.
On this Saturday's episode of SNL, Davidson sat down with Crenshaw to apologize and to give him a chance to roast him back. 
Davidson slid onto the set on a rolling chair saying, "In what I'm sure was a huge shock for people who know me, I made a poor choice last week." 
The comedian continued, "I made a joke about Lt. Commander Dan Crenshaw, and on behalf of the show and myself, I apologize." 
He added, "I mean this from the bottom of my heart, it was a poor choice of words. The man is a war hero and he deserves all the respect in the world." 
As the comedian finished his apology, the Lt. Commander himself slid onto the stage. 
The two exchanged some witty banter before Davidson again apologized to Crenshaw and asked him if they were "good." As Crenshaw was responding yes to Davidson's question, his phone began to ring, playing Davidson's recent ex-fiancé Ariana Grande's song, "Breathin."
Crenshaw proclaimed that he didn't want to answer it because that would be rude saying, "I'm just gonna let it ring." 
Davidson commented on the ringtone in between laughs, and Crenshaw said, "What? Do you know her?" Speaking of Grande.
Davidson and Crenshaw moved onto their next segment where Davidson said it would only be fair to let Crenshaw make fun of a photo of him since that is what he had done a week earlier.
The two then used this experience to voice a powerful message of forgiveness. Crenshaw said, "But seriously, there's a lot of lessons to learn here. Not just that the left and right can still agree on some things, but also this, Americans can forgive one another. We can remember what brings us together as a country and still see the good in each other. 
Photo courtesy: Screenshot form Saturday Night Live Video
Video courtesy: Saturday Night Live
---
---