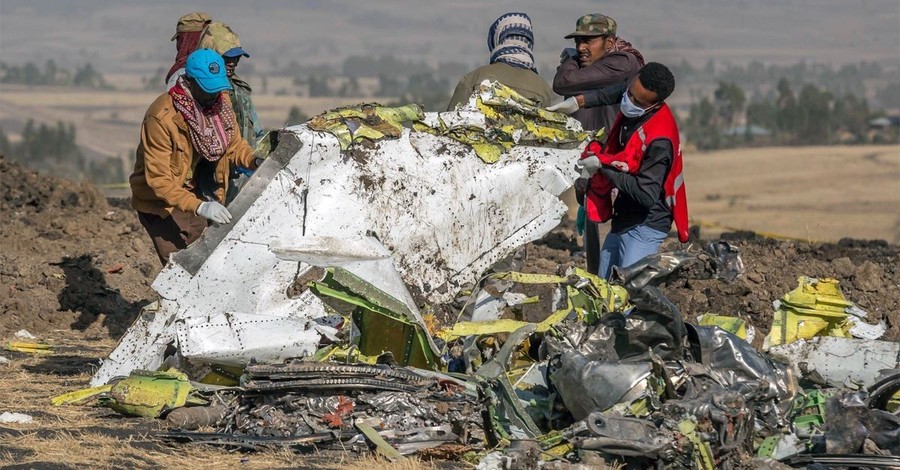 NAIROBI, Kenya (RNS) – Amid shock and grief after the Ethiopian Airline crash, leaders from the world's faith traditions gathered in Nairobi for a United Nations event, united in prayer on Monday (March 11) for the 157 victims of the air disaster, among them a Roman Catholic nun and a Catholic and a Lutheran priest.
Some 5,000 delegates to the U.N. Environment Assembly, meeting at the U.N.'s Nairobi campus this week, held a moment of silence for 22 of their number who died on their way to the assembly.
"I stand before you this morning with a very heavy heart, as we mourn the loss of our sisters and brothers, our colleagues, delegates and members of the United Nations family in the tragic Ethiopian Airlines plane crash," Maimunah Mohd Sharif, acting director of the U.N. Office in Nairobi, told the gathering.
"In the wake of this tragedy, it has been difficult to navigate how to proceed without showing respect to the many lives lost yesterday. I want to assure … that as the day and week unfolds … we will not forget this tragedy, nor those that perished with it."
In a tent set aside for clergy on the sidelines of the U.N. meeting, leaders from Christian, Muslim, Hindu, Baha'i and Judaism took turns to offer the prayers. The leaders are hosting a side event at the assembly dubbed "Faith for Earth."
"We have gathered here to pray for those who have lost their lives in an untimely manner. May God comfort and give strength to their families. We are sad, but there is nothing we can do now," said Nigeria's Imam Shefiu Abdulkareem Majemu, president of the Strength in Diversity Development Center.
"We remember all the nations that have lost their citizens in the tragedy," said Anglican Bishop Julius Wanyoike of Thika Diocese in Kenya. "At this time we pray for blessing. May grace be sufficient."
"Help us to understand why a ship could crash into the earth with people from different nationalities," said Israeli Rabbi Yonatan Neril, executive director of the Interfaith Center for Sustainable Development in Jerusalem.
The jetliner en route to Nairobi crashed near the Ethiopian town of Bishoftu soon after takeoff from the Bole International Airport in the Ethiopian capital, Addis Ababa, on Sunday. The international aid community was hit hard by the crash, as Nairobi and Addis Ababa are hubs for relief and development work.
The Rev. Norman Tendis, an Austrian Lutheran priest and a consultant for the World Council of Churches, was killed in the downed Boeing jet, as were the Rev. George Mukua and Sister Florence Wangari Yongi, both Roman Catholics.
Four relief workers from Catholic Relief Services who were traveling to attend a training in Nairobi were also killed.
In all, 35 nations were affected by the crash, the second involving Boeing's 737 Max 8, a relatively new model, in the past six months. Some countries have grounded the 737 Max 8s in their fleets.
The tragedy hit Kenya hardest, with 32 citizens lost. Canada followed with 18, while Ethiopia lost nine. The U.S., Italy and China lost eight each and Britain seven.
"It's a difficult time. Our hearts go to the family, a friend and our dear brother Norman," said Arnold Temple, a Sierra Leonean Methodist and president of the All Africa Conference of Churches, referring to Tendis.
Mukua, a Kenyan in his second year as a Mariannhill missionary priest, was returning to Nairobi from Rome via Addis Ababa.
"As his confreres we are shaken by this tragic death and ask for your continued prayers for him and especially his family. May the soul of Fr. George … and all passengers that have died rest in eternal peace," wrote the Rev. Patrick Chongo, a fellow priest, on Facebook.
Yongi was traveling to Kenya from Kisangani, in Congo, where she had worked as a missionary for three and a half years. She was returning to Kenya to renew her passport.
READ THIS STORY AT RELIGIONNEWS.COM.
Article originally published by Morning Star News. Used with permission.
Photo courtesy: RNS/AP Photo/Mulugeta Ayene
---
---