Amanda Casanova
| ChristianHeadlines.com Contributor
| Friday, April 16, 2021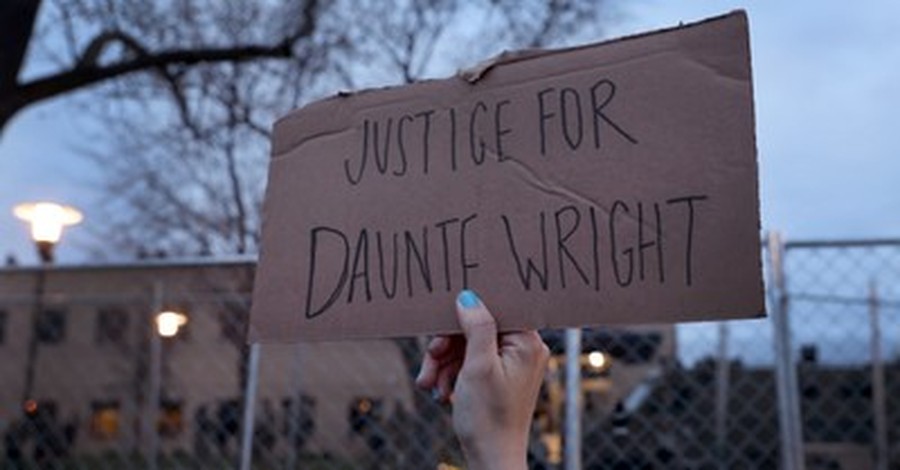 Christian leaders and pastors across the nation shared their reactions online to the fatal police shooting of a 20-year-old Black man in Minnesota.
The comments come after the fatal shooting, which happened over the weekend.
Authorities said this week that officer Kim Potter accidentally discharged her weapon and killed Daunte Wright. Police have said she was trying to Tase him.
Police bodycam footage shows the officer trying to arrest Wright.
"I'll Tase you! I'll Tase you! Taser! Taser! Taser!" The officer says in the video footage.
Wright broke free and ran to get inside his car. The officer fired a single shot, and the car sped away.
"Holy (expletive)! I shot him," the officer says.
Wright died of the gunshot wound to his chest, the Hennepin County Medical Examiner's office said.
Potter has resigned, and so has Brooklyn Center Police Chief Tim Gannon. Additionally, on Wednesday, Potter was charged with second-degree manslaughter.
A call for justice
Just days after the shooting, Christian leaders have issued their reactions online, with some calling the shooting another example of "systemic" failure.
Christian rapper Lecrae posted online: "There's nothing I can say that hasn't already been said. I see a wholistic problem, not simply an isolated event. If we don't work on our whole system, its brokenness will continue to ruin families."
"The term is 'excessive force,'" said Sam Collier, author and pastor of Hillsong Atlanta. "Because of the fear of black people, law enforcement officers overreact and kill us unnecessarily. THIS IS A SYSTEMIC PROBLEM THAT MUST BE ADDRESSED AND CHANGED," he asserted.
"I would also be remiss if I did not address my black brothers and sisters and my future kids," he added. "It grieves me to even have to say this: As my father told me. Please... don't give any officer a reason to overreact. Don't resist arrest, don't stir the pot. Don't agitate the situation; it will never end in our favor because the system is broken. Praying for a day in which this post isn't needed. #JusticeforDaunteWright."
I'm tired of posting about this and tired of the backlash from both sides. But...here we are. #dauntewright pic.twitter.com/ubDV1wKR6o

— Sam Collier (@SamCollier) April 13, 2021
Christian author and teacher Christine Caine reposted Collier's post, only adding, "Sometimes, we simply need to listen."
Pastor Judah Smith of Churchhome, posted on Instagram that he was "praying for the Wright family."
Wright had a 1-year-old son.
"Why and how is it that WE are the ones who always get accidentally shot???" wrote author and pastor DeVon Franklin. "My prayers go out to Daunte Wright's family and to his son, who now has to grow up without a father. It's just devastating... can't even find the words... #justicefordauntewright."
A family's grief
Wright's mother and other family members have also spoken to reporters about her son.
Mother Katie Wright said her son called her after being pulled over to get insurance information to give to the officer. She said the officer asked him to get out of the car.
"Then the police officer asked him to hang up the phone," Katie Wright said. "Three or four seconds went by. I tried calling back to back to back because I didn't know what was going on."
Eventually, the passenger in the car with Wright was able to FaceTime with his mother.
"And she was crying and screaming and said that they shot him," she said. "And then she pointed the phone towards the driver's seat, and my son was laying there, unresponsive. That was the last time that I seen my son," she said.
"That's the last time I heard from my son. And I've had no explanation since then."
Wright's aunt, Naisha Wright, told reporters that her nephew was loved.
"This is no broken home," she said. "This is 23 years of love."
"How do we put life back together after this?" Naisha Wright asked. "My mother shouldn't have to be burying her grandchild. My brother and my sister shouldn't be burying their son."
Support from others
Wright's family has said they do not believe Wright was accidentally shot.
"I can't accept that ... mistake," Wright's father, Aubrey Wright, said. "That doesn't even sound right. You know, this officer has been on the force for 26-plus years. I can't accept that."
Protestors have continued to gather at the Brooklyn Center Police Department for several nights following the shooting.
Acting city manager Reggie Edwards said in an emergency city council meeting Thursday that "95 percent of protestors are protesting peacefully." He said arrests have been declining throughout the week.
Wednesday night, however, a spokesperson with Operation Safety Net said some protestors threw objects at police, while some protestors told reporters that police have been forceful in trying to control the crowds.
"Don't tell me that you're scared of me when I don't have no armor, weapons in my hand," a 19-year-old protestor told local media. "You should have shot me in the mouth because that's the only thing it's going to take for me to shut up."
The shooting happened just days after the trial in the death of George Floyd began. Floyd was killed after a Minneapolis police officer knelt on Floyd's neck for more than nine minutes as he tried to restrain Floyd during an arrest last year.
The former officer, Derek Chauvin, is currently on trial for murder.
This week, Floyd's family met with the Wright family in Minneapolis.
"They thought it was important that they give comfort to Daunte Wright's mother" and family, said Benjamin Crump, an attorney for the Wright family.
Floyd's brother, Philonise Floyd, told the Wright family, "we will stand in support with you."
"The world is traumatized, watching another African American man being slayed," Philonise Floyd said.
"I woke up in the morning with this on my mind. I don't want to see another victim," he said.
"It's a time for change, and that time is now."
Chauvin's trial
Meanwhile, the prosecution and the defense have rested their cases in the murder trial of Chauvin. Closing arguments are expected to take place on Monday.
Chauvin is charged with second-degree murder, third-degree murder and second-degree manslaughter in Floyd's death. If convicted of the most serious charge, as a first-time offender, he could face 10 1/2 years to 15 years in prison.
The jury will be sequestered during deliberations.
If I were you, I would plan for long (deliberations) and hope for short," the judge told jurors this week.
Photo courtesy: ©Getty Images/Scott Olson/Staff
---
Amanda Casanova is a writer living in Dallas, Texas. She has covered news for ChristianHeadlines.com since 2014. She has also contributed to The Houston Chronicle, U.S. News and World Report and IBelieve.com. She blogs at The Migraine Runner.
---
---