Kayla Koslosky
| ChristianHeadlines.com Editor
| Monday, November 12, 2018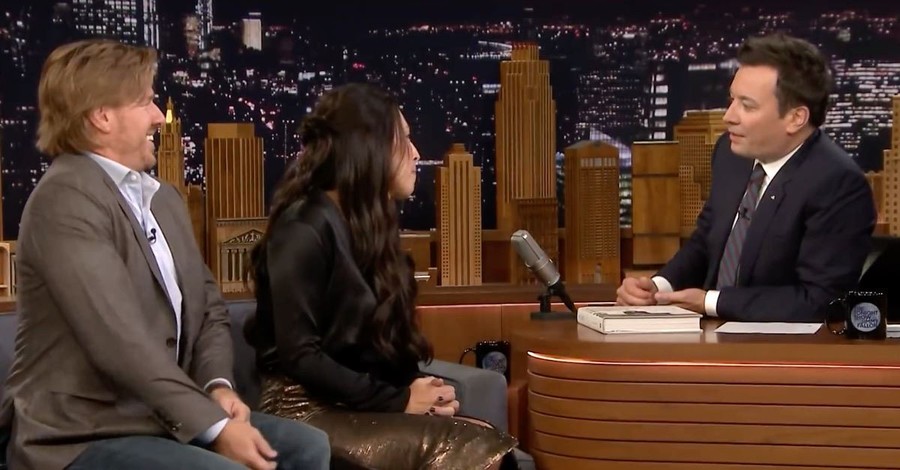 After announcing the end of their hit show Fixer Upper only a year ago, Chip and Joanna Gaines confirmed on Friday, that they are coming back to television. 
Chip and Joanna Gaines appeared on The Tonight Show Starring Jimmy Fallon on Friday to promote Joanna's new book Home Body, but instead of talking about the book, the pair made an exciting and seemingly impromptu announcement regarding their careers in television. 
Fallon started out by asking the couple about the newest addition to their family, four-month-old baby Crew. 
The pair gushed over Crew saying he's the "sweetest boy." 
The late-night host then went on to ask the couple about their unexpected leave from their HGTV show Fixer Upperasking them how they were spending their time off. 
Chip responded to Fallon noting that they took the time off to focus on their marriage and family, Joanna joked that they used their time off to have a baby. 
Chip then responded saying, "This is funny, Jimmy you'll get a kick out of this."
He said, "So we had four beautiful babies before we were ever introduced to the world via The Fixer Upper." He continued, "Then we had zero babies while we were working this full-time job called Fixer Upper. As soon as we decided to stop Fixer Upper, we had a fifth baby. So, we've kind of figured out the Rubix cube here," he added. "Time on our hands equals additional children. So essentially, we're looking for a part-time job to keep us busy" he said while laughing along with the host and the audience. 
Fallon continued on to ask the couple if they planned to ever return to TV.
Following the question, Chip appeared to tense up for a second saying, "Wow, Camera 3 just turned on and is signing directly at me."
He started, "So, we signed a non-disclosure."
Joanna quickly looked at her husband saying "No, wait," but Chip continued.
"And it said quote-unquote you can tell your mother, but that's it. So Mom," he continued "I just wanted to make a quick announcement.  We are coming back to television. You're going to see the kids grow up. You'll get to see us with obviously a six-month delay like the rest of the world. We're excited to be back."
Fallon stood up and applauded as the crowd cheered the pair on over the announcement. 
Chip went on to explain that couple is partnering with David Zaslav and Discovery to have their own network when they return to TV.  
He said, "I think we're going to carve it out to where it really makes sense for us and our family. It will be filmed a lot in Waco, Texas, so we won't have to travel a whole lot." 
He added, "So all things being equal, we could not be more excited." 
Photo courtesy: Screenshot from The Tonight Show Starring Jimmy Fallon Video
Video courtesy: The Tonight Show Starring Jimmy Fallon
---
---