Kayla Koslosky
| ChristianHeadlines.com Editor
| Friday, August 31, 2018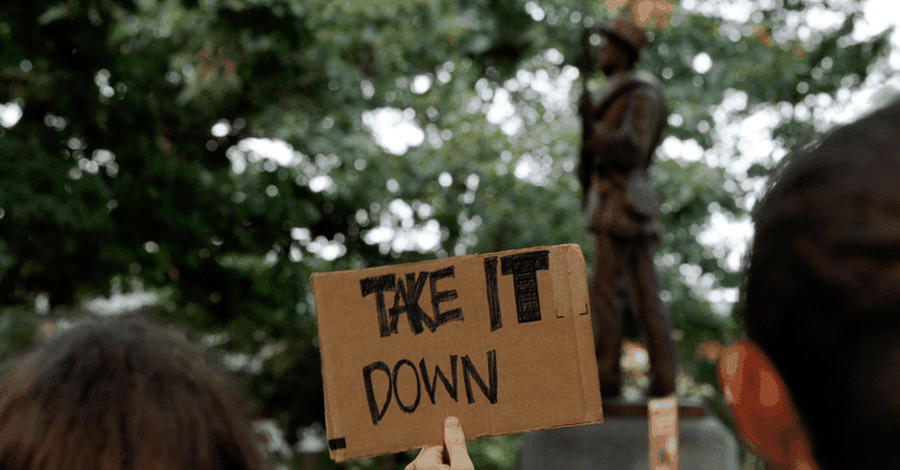 On Aug. 20, the century-old Silent Sam statue at the University of North Carolina-Chapel Hill was toppled over as police officers stood by. According to WRAL News, the chief of the Chapel Hill, N.C. police force ordered officers to stand down and "give them space" as the Confederate statue was pulled over. 
Police Chief Chris Blue was reportedly texting one of his men orders as he closely monitored the situation from afar.
At around 9:00 p.m. Blue reportedly texted, "Do not engage w Crowd at statue. Stay way out."
A half an hour later the statue fell. 
Law enforcement quickly received backlash for their strategy for handling the protest, critics arguing that more should have been done to prevent the toppling of the statue. 
According to the WRAL, Blue was paying particular attention to the potential arrival of counter-protesters to the scene.
A public relations request was sent to Blue for copies of his emails and texts from Aug. 20-21 and WRAL obtained around 400 pages of messages.
According to the text messages, Blue repeatedly asked about officers locations and appeared to be concerned about a clash between the protesters and potential counter-protesters.
WRAL reports that at 7:35 p.m. Blue texted, "Need to make sure our plainclothes guys are really looking out for counter-protesters to arrive. This thing is all over tv and internet. The longer they take with the statue the more time Folks have to arrive."
Reportedly, Blue also texted his officers stating that the university's police officers were backing away from the statue, suggesting that they should too.
No one was injured in the protests but those involved could face misdemeanor rioting or defacing public monument charges.
UNC released a statement on Tuesday saying, "at no time did the administration direct the officers to allow protesters to topple the monument."
"During the event, we rely on the experience and judgment of law enforcement to make decisions on the ground, keeping safety as the top priority," the statement continued.
UNC System Board of Governors member, Thom Goolsby, posted a video to YouTube stating that in accordance to North Carolina law the statue will be put back up within 90 days.
Video courtesy: Thom Goolsby/YouTube
Photo courtesy: Getty Images/Sara D. Davis/Stringer
---
---