Bob Smietana
| Religion News Service
| Published: Oct 20, 2021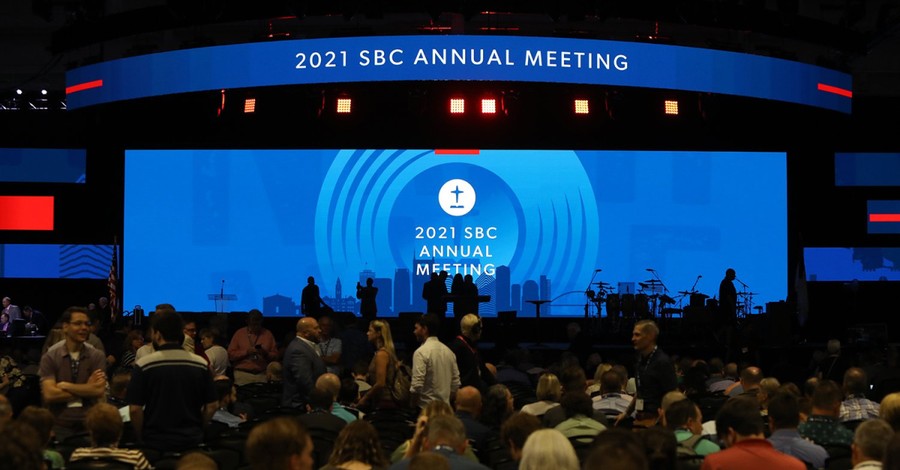 (RNS) — Since 2018, the Southern Baptist Convention has lost a series of high-profile leaders whose tenures ended due to controversy or misconduct.
The latest to depart is Ronnie Floyd, a former megachurch pastor who resigned as president of the SBC's Nashville-based Executive Committee in mid-October, saying in his resignation letter that further association with the committee put "personal integrity, reputation, and leadership" at risk.
"What was desired to be leveraged for the advancement of the Gospel by those who called me here, I will not jeopardize any longer because of serving in this role."
Floyd had been embroiled in weeks of bitter debate over an investigation into how Baptist leaders treated survivors of sexual abuse and their allegations, but his departure came over issues not of personal blame but of how much access investigators would have to records of past conversations and other communications.
He follows former SBC President Paige Patterson, who was fired for mishandling a sexual assault at a seminary he led; Frank Page, former president of the Executive Committee, who resigned after a "personal failing"; David Platt, former president of the SBC's International Mission Board, who resigned after a troubled tenure that included the loss of nearly 1,000 missionaries due to budget cuts; and Russell Moore, former president of the SBC's Ethics and Religious Liberty Commission, a critic of former President Donald Trump who had forced unwelcome discussions on sexual abuse.
The leadership drain has come at a difficult time for the SBC, which has lost more than 2 million members since 2006. The number of baptisms has declined for years as well. As they try to stem these losses, denominational leaders have feuded, often in public, over their responsibility to address systemic racism, over the role of women in leadership and over support for Trump.
The leadership drain also comes amid growing secularization of the United States, the ongoing COVID-19 pandemic and a depletion of trust in religious leaders even among the faithful.
"I do believe that SBC is at a crossroads in many ways," said James Merritt, pastor of Cross Pointe Church in Duluth, Georgia, and former SBC president.
"We are going to have to make some very strategic and difficult decisions on how we are going to engage America and the world with the gospel in a post-COVID and postmodern age, where being a pastor of a church, or the leader of a denomination, does not carry anywhere the cultural cache or influence that it once did."
The debate over the sex abuse investigation that led to Floyd's resignation is part of a larger reckoning among Southern Baptists prompted in part by a 2019 report by the Houston Chronicle documenting hundreds of cases of abuse at SBC churches, which led the SBC to hold a public lament at its annual meeting and to change its bylaws to allow the banishment of churches that mishandle abuse.
When local church delegates, called messengers, were told at the SBC annual meeting in Nashville, Tennessee, in June that Floyd and the Executive Committee planned to oversee a third-party firm's review of the committee's handling of sexual abuse, they wrested control of the investigation away from the Executive Committee in a vote from the meeting floor.
Molly Worthen, associate professor of history at the University of North Carolina, said the controversy exposed a tension faced by Southern Baptists and other evangelicals: On one hand, she said, those groups are often fiercely democratic — believing that decisions should be made by the people in the pews.
"On the other hand, there's the tendency of evangelical culture to produce pastor-warlords who are used to operating with no particular checks and balances and create their own systems with very little accountability," said Worthen. "Those are both equally powerful cultural strains and here we see them clashing in a very visible way."
The rise of social media has also challenged Southern Baptist leaders, said the Rev. Brian Kaylor, president and editor-in-chief of Word&Way, a publication for Southern Baptists in Missouri. In the past, Kaylor said, disputes at the top were largely kept private. Now, feuds are out in the open.
"Things can't happen behind closed doors anymore," he said.
Floyd's successor will be tasked with rebuilding trust between Southern Baptists and their national leaders.
The Southern Baptist Convention, which has no bishops or hierarchical structure, has been bound together instead by a shared mission, a fierce devotion to the Bible and a wildly successful fundraising venture known as the Cooperative Program, which since 1925 has raised more than $20 billion in donations from churches to fund missionaries, seminaries and other Southern Baptist causes. One of the chief tasks of the Executive Committee is to promote that program and disperse funds.
"The Cooperative Program and a cooperative spirit are the two elements that helped us to remain strong," said Morris Chapman, who spent 18 years as president of the Executive Committee before retiring in 2010.
But cooperation is increasingly in short supply, Chapman said: "There seems to be less cooperative ministry together."
A former SBC president himself, Chapman was a leading figure in the so-called conservative resurgence, which wrested control of the denomination from moderate leaders in the 1980s and 1990s. But as those leaders age — or, like conservative coup leader Patterson, are toppled — the conservative theology that bound that movement together may no longer be enough.
The current feuding worries Chapman. "It's one thing to disagree with each other," he said. "It's another thing to distrust each other."
The leadership struggles are also fueled by growing polarization in the United States at large. For years Southern Baptists, like many of their evangelical brethren, have become overwhelmingly Republican. The number of Americans who identify as white evangelicals grew during the Trump era, according to new data from Pew Research.
But while the old SBC guard doubled down on support for Trump, it has put them at odds with many of the people they need to stop the decline, said Nathan Finn, a Baptist historian and provost at North Greenville University in South Carolina. "What we struggle with is reaching purple state and blue state unbelievers," he said.
White evangelicals, said Greg Smith of Pew Research, now have two identities. One is distinctively religious, shaping how they view the Bible, prayer, marriage and belief in God. The other is political, said Smith, and specifically Republican. This can unify some groups, but it can also make disagreements over politics a new source of conflict.
The country's growing diversity has also been a source of tension in the SBC. Founded by slaveholders, the SBC was shaped by the Jim Crow South. In 1995, the denomination issued an apology for its racist history, but in recent years former President J.D. Greear, a North Carolina megachurch pastor, and Moore, the former ERLC leader, were labeled as liberal — a fatal flaw, in SBC terms — for making racial reconciliation an issue.
The national debate over critical race theory has also divided Southern Baptists and led a number of Black pastors to leave the convention.
Barry Hankins, a Baylor University historian who studies Southern Baptists and other evangelicals, believes the Southern Baptists have become conflicted as their religious identity becomes synonymous with their political and social identity. As evangelicals, he said, they are defined by what's known as the Bebbington Quadrilateral — a proof test of beliefs about the Bible, the cross, religious conversion and religious activism, laid down by British historian David Bebbington.
But as a social movement, Southern Baptists and evangelicals have become defined by what he called the "Du Mez Patrilateral," inspired by the work of Calvin University historian Kristin Kobes Du Mez. In her bestselling book "Jesus and John Wayne," she argues that powerful men promoted a patriarchal and authoritarian leadership style both in the church and in homes. Those leaders also endorsed a patriotic version of nationalism that has become common in evangelical culture.
Hankins sees the recent conflict in the SBC as a clash between the two quadrilaterals. "It is a contest between those who want to continue fighting the culture wars and those who want to step away from them," he said.
That conflict is unlikely to end soon. Leaders of the so-called Conservative Baptist Network, a movement within the SBC that has been critical of the denomination's current leaders, are gearing up for the presidential election at the SBC's annual meeting in Anaheim, California, next year. In 2021, a CBN-backed candidate, Georgia pastor Mike Stone, narrowly a presidential race to Alabama pastor Ed Litton, who is known for his racial reconciliation activism.
Finn said the leadership turnover has been an issue for the SBC and he hopes it will end soon. That turnover, he said, has made it harder for the convention to move forward.
"I would love to see a context where we have more retirements and less resignations," he said.
READ THIS STORY AT RELIGIONNEWS.COM.
Article originally published by Religion News Service. Used with permission.
Photo courtesy: ©RNS/SBC/Kit Doyle
---
---