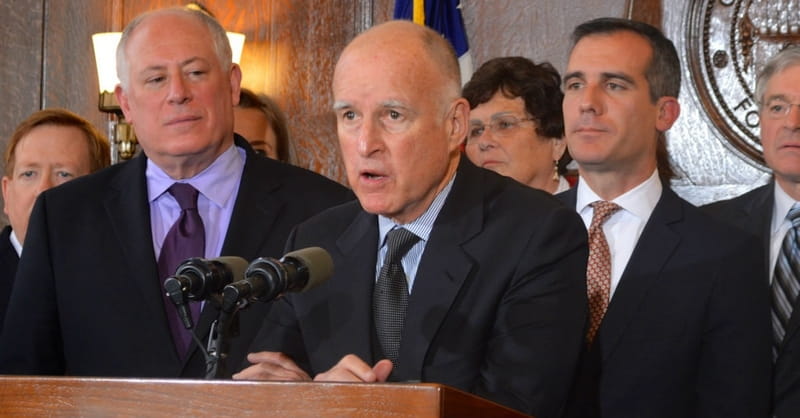 ---
California Gov. Jerry Brown recently condemned President Trump's proposed border wall and stated that illegal immigrants are "children of God and they should be treated that way."
Brown made these comments in an interview with NBC's Meet the Press last weekend. Brown, who is serving his second term as governor, said he doesn't approve of Trump's idea for a border wall between the U.S. and Mexico and that it poses concerns both in terms of keeping Mexicans out and keeping Americans in.
Brown also took issue with the idea of a wall because of the message it sends to illegal immigrants, who Brown said are also "children of God."
According to Relevant Magazine, Brown said California would fight the plan to build the wall and possibly even become a "sanctuary state."
"We'll do the right human–and I would even say Christian–thing, from my point of view," he said. "You don't treat human beings like that."
"Trump's supposed to be 'Mr. Religious Fellow,' and I thought we've got to treat 'the least of these' as we would treat the Lord," Brown added. "So I hope he would reconnect with some of these conservative evangelicals, and they'll tell him that these are human beings, they're children of God; they should be treated that way."
Photo courtesy: Flickr.com
Publication date: March 30, 2017
Veronica Neffinger wrote her first poem at age seven and went on to study English in college, focusing on 18th century literature. When she is not listening to baseball games, enjoying the outdoors, or reading, she can be found mostly in Richmond, VA writing primarily about nature, nostalgia, faith, family, and Jane Austen.