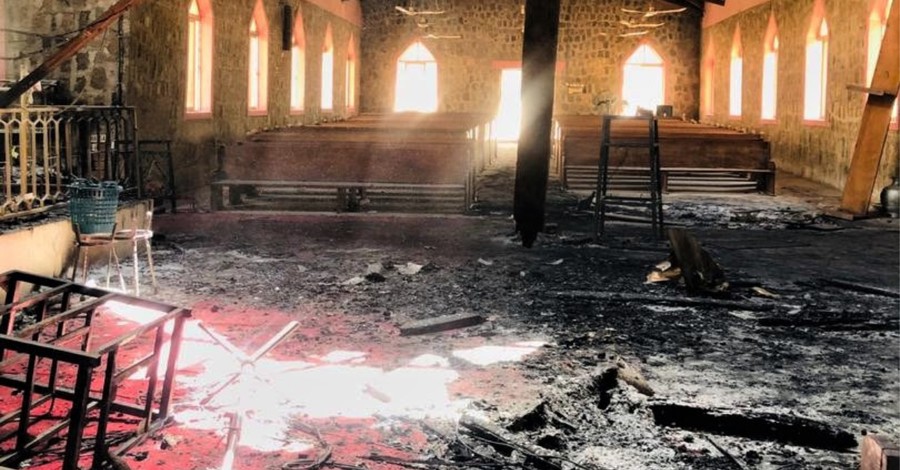 JOS, Nigeria, February 24, 2020 (Morning Star News) – Islamic extremist militants from terrorist group Boko Haram on Friday night (Feb. 21) destroyed three worship sites and an unspecified number of houses in northeast Nigeria, sources said.
Thousands of people were displaced as the militants set three church buildings and the houses on fire in predominantly Christian Garkida, in Adamawa state's Gombi County, area residents told Morning Star News.
"Please, pray for Christians in Garkida, Gombi LGA and its environs, that God will take control over the current situation they're faced with," one resident told Morning Star News by text message during the attack, which local sources said lasted from 7 p.m. until midnight.
The charred buildings belonged to the Church of the Brethren (EYN), the Anglican Church and the Living Faith Church, area resident Watirahyel Mshelia said.
"The Boko Haram insurgents were in hundreds and came into the town in nine trucks, while some rode on 50 motorcycles," Mshelia told Morning Star News.
Another area resident, Manasseh Allen, said in a text message during the attack, "Our people in Garkida are right now running for their lives as Boko Haram carries out attacks on the community."
Allen said reports about an impending attack by Boko Haram reached Christians in the town at about 1 p.m. on Friday, but that Nigerian armed forces took no proactive steps to protect them.
"In spite of all the local intelligence reports on the afternoon of Friday, after the terrorists were sighted around Kwarangulum in Chibok Local Government Area, which is close to Garkida, no effort was made by soldiers stationed in the area to preempt the attack," Allen said. "I feel very sad about this."
The attack broke up a meeting of EYN congregation's Christian Women's Fellowship, said another resident of Garkida, Yohanna Sunday.
Local media reported that the militants abducted an unspecified number of Christians. The number of casualties was unknown as many people had left town prior to the raid, though a military spokesman reportedly said one soldier had been killed and another wounded. The few remaining residents were said to have fled into hiding in the surrounding bushes upon sighting the Boko Haram invaders.
Adamawa Police spokesman Suleiman Nguroje confirmed the attack in a text message to Morning Star News.
"We have received a report that there is an attack in Garkida, and we've mobilized personnel to the area," Nguroje said.
Residents told Nigerian newspaper the Daily Trust that the assailants first attacked a military checkpoint on Friday before razing public and private buildings in Garkida. Saying the attackers held the town for hours, ransacking and looting buildings, a local resident told the newspaper that the insurgents overpowered police and vigilante defenders before burning a police station, police barracks, church buildings, a hospital and a health center and the homes of two local officials.
The military had restored order and was patrolling the streets on Saturday (Feb. 22), a resident told the newspaper. The Daily Trust cited a security source as saying Boko Haram rebels, which seek to impose sharia (Islamic law) throughout Nigeria, acted unchallenged for hours despite the presence of soldiers in the town during the siege.
A resident told another Nigerian news outlet that Nigerian army soldiers engaged the Boko Haram rebels in gun battle but then pulled back for reinforcements, during which time the insurgents inflicted most of the damage. The terrorists reportedly advanced to neighboring towns after soldiers returned and drove them out.
Nigeria ranked 12th on Open Doors' 2020 World Watch List of countries where Christians suffer the most persecution but second in the number of Christians killed for their faith, behind Pakistan.
If you would like to help persecuted Christians, visit http://morningstarnews.org/resources/aid-agencies/ for a list of organizations that can orient you on how to get involved.
If you or your organization would like to help enable Morning Star News to continue raising awareness of persecuted Christians worldwide with original-content reporting, please consider collaborating at https://morningstarnews.org/donate/?
Article originally published by Morning Star News. Used with permission.
Photo courtesy: ©MSN/Save the Persecuted Church Facebook
---
---