Bob Smietana
| Religion News Service
| Monday, September 13, 2021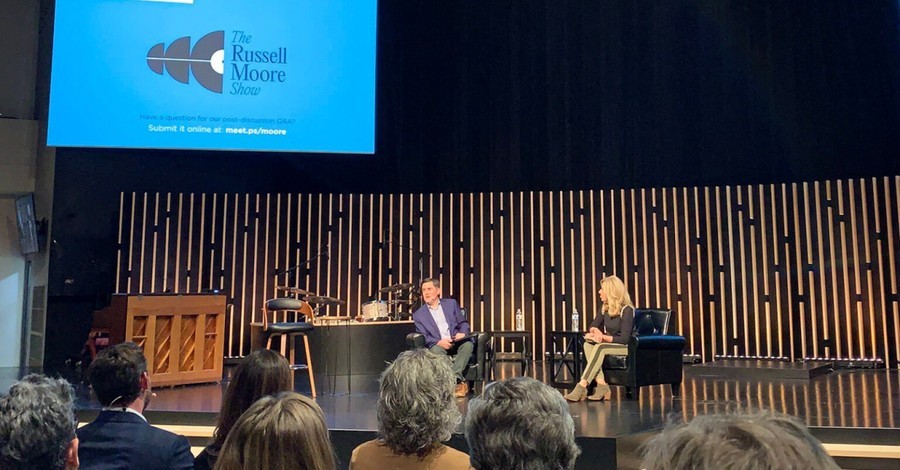 NASHVILLE (RNS) — Two of the best-known ex-Southern Baptist leaders in the country got together at a Nashville church on Thursday (Sept. 9) for a night filled with Bible verses, banter and bittersweet memories.
The event, entitled "Lessons in Leaving (and Staying)," featured Bible teacher Beth Moore and ethicist Russell Moore — and was the first live event for a new Public Theology Project from Christianity Today magazine, where Russell Moore landed after leaving the Southern Baptist Convention's Ethics and Religious Liberty Commission.
Thursday's event, held at Immanuel Church, west of downtown Nashville, started with a mock confession from Beth Moore.
"I am Russell Moore's mother," she said, and then pointed to a pair of screens on the side of the stage, where a series of photos from a fake family scrapbook flashed, all with Russell Moore's head pasted on each of them. In real life the two are not related, a fact often lost on their critics.
The joke set the tone for the night — which was filled with good-natured banter about the state of the evangelical church as well as poignant reflections on what each lost in departing from the faith community that raised them.
Both of the Moores left the SBC earlier this year after months of ongoing controversy, most of it related to their public criticism of Donald Trump, their concerns over racism in the denomination and their advocacy for survivors of sexual abuse among evangelicals.
Leaving the SBC was like a death of a close friend, said Beth Moore. The Southern Baptist Convention had been her whole world, and her home church had helped save her while growing up in a troubled home.
Her faith in her fellow Baptists was rocked when many Baptist leaders rallied to support Trump after the release of Access Hollywood tapes that captured the then-presidential candidate making lewd comments about forcing himself on women.
Beth Moore, who has spent decades in women's ministry, said she felt compelled to speak up after hearing the remarks, which she learned of while traveling home after spending time with Native American women in Arizona, where some of the women she spoke to had experienced abuse.
"What would you expect out of someone who lives their whole life serving women," she asked the audience of about 250 people who gathered for the live taping of the newly launched "The Russell Moore Podcast."
Then she added: "I expected Donald Trump to be Donald Trump. That was not a shock to me. I did not expect us to be us."
Her 2106 criticism of Trump did not land well. Her ministry, Living Proof, lost millions in revenue, and she became a symbol of "liberalism" invading the SBC, according to her critics. Things got worse, she said, after she joked about speaking in a church on Mother's Day, leading to accusations that Baptist women were trying to take over the pulpits of Southern Baptist churches.
Nothing could be further from the truth, she said. Women are not a threat to the pulpit.
"No, no, no," she said. "Forgive me. The pulpit had become a threat to women."
The fallout from leaving the SBC has had moments of consolation, Beth Moore admitted. Many friends have reached out to commiserate with her, and she has found new allies along the way.
She does have one pet peeve. Many well-intentioned friends have reached out to say, "I am so sorry that so many people hate you."
"There is nothing about that I find helpful," she said to raucous laughter and applause.
For his part, Russell Moore — who recently joined Immanuel, which is not part of the SBC — spoke about his public departure from the ERLC, which came after years of conflict and a pair of investigations into whether or not Moore's public statements about Trump and issues like immigration and abuse had hurt the SBC.
He said he could have stayed at the ERLC. But the cost would have been too high.
"I could have won the conflict that needed to be fought," he said. "But I realized I would have to have a conflict. And I didn't want to be the kind of person I would be on the other side of that."
Russell Moore also noted his friendship with Beth Moore had come as a surprise. A proponent of complementarianism, a theology that prescribes different roles for men and women in the home and in the church and bars women from the pastorate, he had been critical of her leadership and ministry in the past.
With some chagrin, he pointed out that in 2006, he had called her teaching "a gateway drug to feminism," a statement he now regrets.
When he was under fire, however, Beth Moore reached out with support, first by direct messages on Twitter, and later with texts. Russell Moore and his wife, Maria, eventually became friends and confidants with Beth Moore, supporting each other through the maelstrom that engulfed them both.
Russell Moore joked that many friends also supported him, some of them even offering to buy him a beer or share a shot with him, something that had not happened since he was a teenager.
Both of the Moores said that, while they have left the SBC, they have not lost their faith in Jesus. While both love the church, they urged the audience to put their faith in Jesus and trust God is at work.
"I couldn't let myself ever think this doesn't end well," said Beth Moore. "Because that was unacceptable."
Both of the Moores said they plan to stay in ministry, though Beth Moore admitted retreating from the public eye sounds appealing at times. But God called her to ministry, she said, and had not yet told her to stop.
She made that point while recalling an online controversy caused by outspoken California pastor John McArthur, a noted critic of women in ministry. During an event in 2019, McArthur said Moore should "go home" rather than teaching the Bible.
McArthur's comment, which was referenced several times on Thursday as a punchline for jokes, never bothered her, Beth Moore said, since the pastor was not a Southern Baptist and she did not know him.
Then she turned to the audience and whispered, "I am not going home."
"You can't make me, because you are not my boss."
READ THIS STORY AT RELIGIONNEWS.COM.
Article originally published by Religion News Service. Used with permission.
Photo courtesy: ©RNS/Bob Smietana
---
---