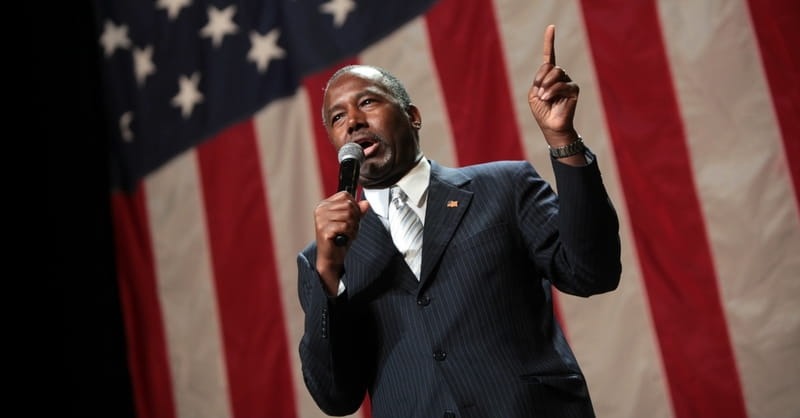 ---
Dr. Ben Carson, a former Republican candidate for president, has stated that, despite the controversial video that surfaced on Friday, Trump is still the better choice for president.
According to The Christian Post, Carson said he could not defend the lewd remarks Trump made about kissing and groping women in the video, but he nevertheless thinks Trump is the better choice over Democratic nominee Hillary Clinton.
"I'm a Christian voter and I'm not OK with it, but I can look at the bigger picture, and I think a lot of other Christians can look at the bigger picture too," Carson said. "I can't defend the video," he continued, "but I can certainly continue to support him because I think what he represents is far superior to what Hillary represents."
Carson also shared that Trump prayed with televangelist James Robison before the presidential debate Sunday evening.
According to Carson, Trump prayed for forgiveness and "is coming ever closer to the Lord."
Robison has not actually endorsed Trump, although he is a member of Trump's Evangelical Advisory Committee.
"Whether it was Joseph counseling Pharaoh, Daniel counseling Nebuchadnezzar, Nathan calling King David to account, Samuel speaking prophetically to King Saul, the Apostle Paul in chains before King Agrippa, or countless other biblical instances. God calls his followers as ambassadors for Christ to engage, at times personally and directly, with secular leaders — including the godly, the wicked and others who may or may not find their way to the heart of their Creator," Robison wrote.
Publication date: October 11, 2016
Veronica Neffinger wrote her first poem at age seven and went on to study English in college, focusing on 18th century literature. When she is not listening to baseball games, enjoying the outdoors, or reading, she can be found mostly in Richmond, VA writing primarily about nature, nostalgia, faith, family, and Jane Austen.