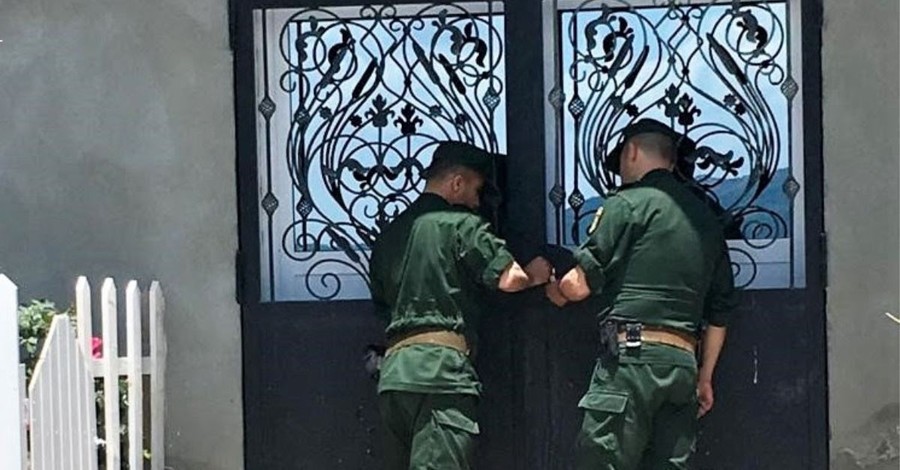 TIZI-OUZOU, Algeria, May 23, 2019 (Morning Star News) – Authorities in north-central Algeria sealed shut another church building on Wednesday (May 22), closing it and its Bible school, Christian leaders said.
Citing a law that requires authorization for non-Muslim places of worship, gendarmes locked the doors of the evangelical church building in Boudjima, 20 kilometers (12 miles) northeast of Tizi-Ouzou, capital of the province of the same name in Kabylie Region.
Church pastor Youcef Ourahmane told Morning Star News that he has applied for a permit and, like all applications in Algeria, it has sat unattended. Summoned by phone to the gendarmerie brigade of Makouda yesterday (May 22), he and the top officials from the Protestant Church of Algeria (EPA) umbrella group were told that the Tizi-Ouzou provincial head had ordered the closure of the church and the Bible school.
"We have received an order of execution, and we must act," the brigade chief said over the efforts of Pastor Ourahmane, EPA President Salah Chalah and EPA council member Arezki Iamrache to dissuade him, the pastor said. "We are very sorry to get there, but we are only the executors."
Pastor Ourahmane is also vice president of the EPA.
"I am sad to have to face this injustice," Pastor Ourahmane told Morning Star News. "We prayed for those authorities who are persecuting us, as our Lord Jesus Christ commanded. And in spite of all this, we are convinced that God is sovereign and is in control of this situation and all circumstances."
A 2006 ordinance governing non-Muslim worship in Algeria, commonly referred to as Law 03/06, stipulates that churches must obtain the permission of a national committee to be registered, but this committee has never met, and no church request has been officially considered or approved, he said.
"Since November 2017, the authorities have inspected different churches, arguing that they are testing their compliance with safety regulations," Pastor Ourahmane said. "In reality, however, this argument was used to examine licensing agreements."
While three churches in Oran Province that the provincial head closed in November 2017 and February 2018 have since reopened, others that authorities closed last year in Akbou, in Kabylie Region, remain sealed, he said.
On Dec. 30, authorities ordered the closure of an evangelical church in Ait-Jimaa village, 45 kilometers (27 miles) from Tizi-Ouzou.
The EPA has 45 affiliated churches throughout the country with nearly 50,000 Christians. Since November 2017, "building-safety committees" have visited most EPA-affiliated churches and inquired about licenses required by the 2006 law regulating non-Muslim worship, according to advocacy group Middle East Concern (MEC). Officials have yet to issue any license for a church building under the regulation, according to MEC.
Several churches have since received written orders to cease all activities, and authorities have closed a number of them for operating without a license.
Islam is the state religion in Algeria, where 99 percent of the population of 40 million are Muslim. Since 2000, thousands of Algerian Muslims have put their faith in Christ. Algerian officials estimate the number of Christians at 50,000, but others say it could be twice that number.
Algeria ranked 22nd on Christian support organization Open Doors' 2019 World Watch List of the countries where it is most difficult to be a Christian, up from 42nd place the previous year. 
If you would like to help persecuted Christians, visit http://morningstarnews.org/resources/aid-agencies/ for a list of organizations that can orient you on how to get involved.