Amanda Casanova
| ChristianHeadlines.com Contributor
| Tuesday, November 2, 2021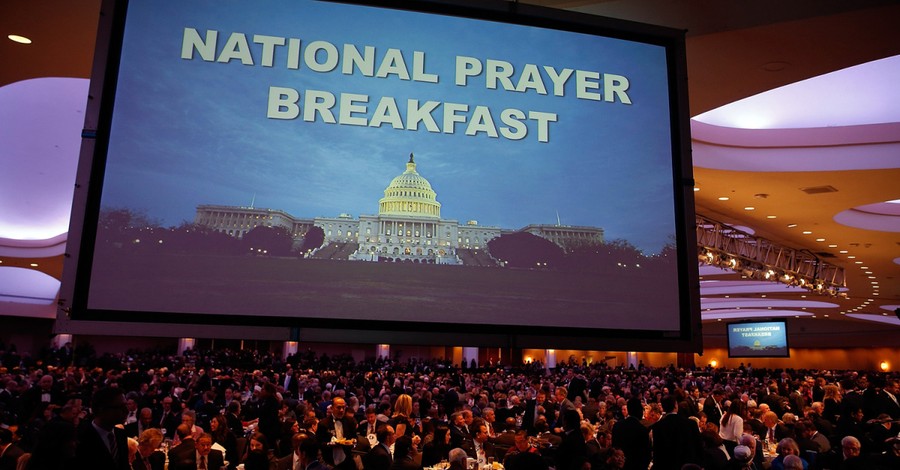 ---
An atheist group is urging members of Congress to stop participating in the annual National Prayer Breakfast.
According to Faithwire, the Freedom From Religion Foundation has reached out to Congress in letters, asking them to stop sponsoring the annual breakfast.
"Are we really still doing this in 2021?" FFRF co-president Annie Laurie Gaylor said in a statement. "Year after year, scandal after scandal, and still not a single prayer has been answered. All they're proving is that they don't respect the separation of state and church and that their god doesn't give a fig for their mimosa-driven pleas."
The annual breakfast takes place on the first Thursday in February each year. The president traditionally attends to share about his own faith. Members of Congress also attend. Other guests from around the world and from different organizations typically attend the event as well.
"Members of Congress who sponsor or attend the event in their official capacity unfortunately and perhaps inadvertently are sending a clear message that their office endorses the event's religious message, in violation of the Establishment Clause of the First Amendment," the letter reads, in part.
Said FFRF Co-President Dan Barker: "I wish they'd get off their knees and get to work. Imagine if they spent that time debating Supreme Court reform or ending the filibuster instead of engaging in the hypocrisy their savior condemned in his Sermon on the Mount."
The FFRF also said there have been several "scandals" at previous breakfast events.
"Russian spies, Christian nationalists and theocrats, anti-LGBTQ bigotry, influence-peddling, and a shadowy religious group known as The Family," FFRF director of strategic response Andrew Seidel said. "The National Prayer Breakfast contains all of this."
The National Prayer Breakfast started in 1953 with President Dwight Eisenhower.
"All free government is firmly founded in a deeply felt religious faith," Eisenhower said at the first breakfast to 400 people.
Photo courtesy: ©Getty Images/Win McNamee/Staff
---
Amanda Casanova is a writer living in Dallas, Texas. She has covered news for ChristianHeadlines.com since 2014. She has also contributed to The Houston Chronicle, U.S. News and World Report and IBelieve.com. She blogs at The Migraine Runner.