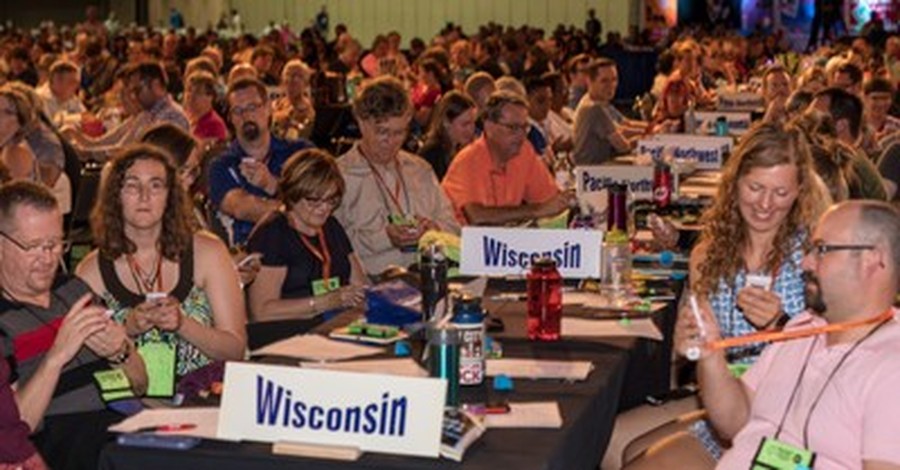 (RNS) — When the United Church of Christ kicks off its General Synod on Sunday (July 11), the Rev. Traci Blackmon isn't worried about fractious votes, conservative insurgencies or to-do's over high-level resignations — or calls for the same. The UCC, in short, is no Southern Baptist Convention, which endured all of the above at its annual meeting last month.
What worries Blackmon, she said, are technical glitches.
Planned before COVID-19 vaccines were widely available, the UCC Special Edition 2021 General Synod will be held virtually July 11-18 using technology developed by the mainline Presbyterian Church (USA), which held its denominational meeting online last year.
It comes as a number of Protestant denominations resume their meetings this summer after the COVID-19 pandemic upended plans in 2020. Other denominations meeting in the next few months include the African Methodist Episcopal Church, Assemblies of God and National Baptist Convention USA — some in person, some remotely.
While the worst of the pandemic seems to have passed, Blackmon hopes meeting virtually will afford the most people the chance to participate.
"My hope for this General Synod is that people who would normally be excluded from being able to participate in the full manifestation of the church gathered have the opportunity to do so because we're virtual," said Blackmon, associate general minister of justice and local ministries for the United Church of Christ.
Already, several evangelical denominational meetings have grabbed headlines this summer as Southern Baptists debated critical race theory, an academic approach to understanding systemic racism, and the Presbyterian Church in America decided those who identify as gay are not qualified for ordination.
At its meeting in June, the Evangelical Covenant Church denounced the Doctrine of Discovery, the theological justification that allowed the discovery and domination by European Christians of lands already inhabited by Indigenous peoples.
But the UCC repudiated the Doctrine of Discovery years ago. It also has long since settled questions about the inclusion of its LGBTQ clergy and declared itself called to be an "anti-racist church."
And don't expect the mainline denomination to debate CRT, according to Blackmon.
"The United Church of Christ recognizes the importance of everyone's human dignity and everyone's story, and we also recognize racism as a sin. And so we don't wrestle in ways that some denominations do," she said.
She added: "We engage conversations about the impact of racism and about the detriment of not telling the truth about our history. We certainly will do that, but we won't be having conversations from a place of trying to silence people. That's just not who we are."
Not that the UCC's business isn't relevant to current events.
On the contrary, delegates will take up proposed resolutions declaring racism a public health crisis, calling for a ban on conversion therapy and exploring ways to promote safety for women and nonbinary people in the denomination in response to the #MeToo and #ChurchToo movements. Other proposed resolutions include declaring the rights of nature, advocating for reform of the cash bail bond system and urging the United States to "bring an end to the unlawful occupation of the Hawaiian Islands," among other things.
At this year's biennial meeting — part business meeting, part worship service, part "family reunion," as Blackmon described it — keynote speakers include Sikh social justice activist and filmmaker Valarie Kaur and the Rev. Adam Russell Taylor, the new president of Sojourners.
The United Church of Christ also will unveil a new initiative called Join the Movement, part of its ongoing commitment to racial justice.
The past year exposed Americans not only to a pandemic, but also to the "impact of racism and racialized hatred in this country" that has opened conversations in the UCC and beyond, according to the associate general minister.
"It's not that we're joining a new movement. We feel like the movement was started by Jesus," Blackmon said.
Join the Movement will highlight the anti-racism work of churches across the country, making curriculums and other resources available to UCC members and sharing updates on the racial justice assessment the denomination is undergoing, she said.
"The work of undoing harm, of repairing harm, is the more extensive work, and we're committed to doing that work and think we can do it better if we do it together," Blackmon said. "So, in that way, Join the Movement becomes a safe space — a clearing, if you will — and a repository for all of the things that are happening in hopes that we will learn from one another and move forward."
Technical problems or not, with such items on the agenda, she said, "I expect space for grace."
READ THIS ARTICLE AT RELIGIONNEWS.COM.
Article originally published by Religion News Service. Used with permission.
Photo courtesy: ©RNS/UCC Flickr
---
---