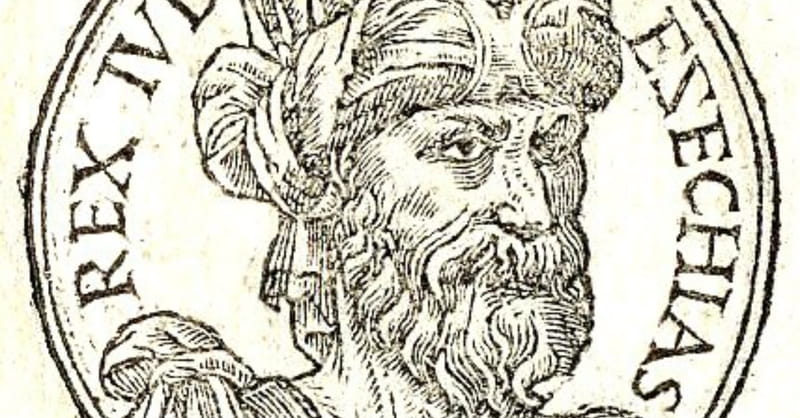 ---
An ancient seal of the Biblical King Hezekiah has been found at an archaeological site at the foot of the wall that surrounds Jerusalem's Old City.
Charisma News reports that the clay imprint is known as a bulla and is dated from the period of King Hezekiah around 700 B.C. The area in which it was found is rich in relics from the period of the first two ancient Jewish temples.
However, "This is the first time that a seal impression of an Israelite or Judean king has ever come to light in a scientific archaeological excavation," said Eilat Mazar of Jerusalem's Hebrew University who directed the excavation.
The ancient seal is thought to have been discarded into a refuse dump at the time of King Hezekiah. The bulla was initially discovered five years ago, catalogued, and placed in a closet with 33 others.
It was only recently that one of the archaeologists on Mazar's team realized its true identity after studying it further.
The seal has Hebrew scripts imprinted on it, as well as a symbol of a two-winged sun. The Hebrew script reads, "Belonging to Hezekiah (son of) Ahaz king of Judah."
The details of Hezekiah's reign over Judah can be found in the Biblical books of 2 Kings, 2 Chronicles, and Isaiah.
2 Kings 18:5-7 states, "Hezekiah trusted in the Lord, the God of Israel. There was no one like him among all the kings of Judah, either before him or after him. He held fast to the Lord and did not stop following him; he kept the commands the Lord had given Moses.And the Lord was with him; he was successful in whatever he undertook. He rebelled against the king of Assyria and did not serve him."
Photo courtesy: Wikipedia
Publication date: December 3, 2015
Veronica Neffinger wrote her first poem at age seven and went on to study English in college, focusing on 18th century literature. When she is not listening to baseball games, enjoying the outdoors, or reading, she can be found mostly in Richmond, VA writing primarily about nature, nostalgia, faith, family, and Jane Austen.