Michael Foust
| ChristianHeadlines.com Contributor
| Monday, February 28, 2022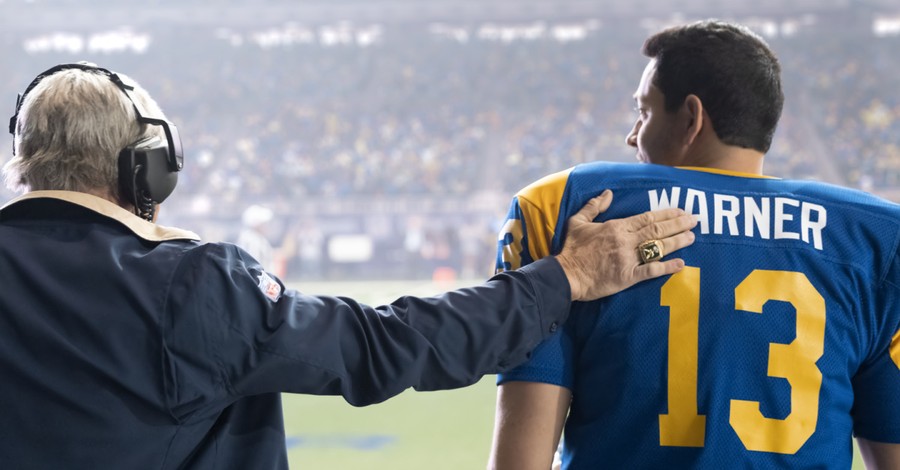 To producer Kevin Downes, movies that don't showcase the power of the gospel are, well, "boring."
That's one reason Downes says he was attracted to American Underdog, which tells the story of Pro Football Hall of Famer Kurt Warner – an outspoken Christian – and is now out on home video. It's also why Downes wanted to produce other true-life stories about the hope found in Christ, including I Still Believe, I Can Only Imagine and Woodlawn.
American Underdog (PG) opened in theaters in the Top 5 and remained there its first three weekends.
Downes says he and his filmmaking teammates at Kingdom Story Company have a natural affinity for non-fiction scripts.
"Everything we've got in development is based on a true story because there's just so many extraordinary stories that are out there that showcase the power of what the gospel can do in people's lives," Downes told Christian Headlines. "And that's what our mission is – to be able to showcase the power of the gospel. To me, that's what drives me. Whenever I read a script that's not that, it kind of bores me, to be honest."
Downes founded Kingdom Story Company alongside Jon Erwin, Andrew Erwin and Tony Young. Kingdom Story is the same company behind American Underdog, the aforementioned films, and the 2021 documentary Jesus Music. They recently announced the production of another movie that's based on a true story, Jesus Revolution.
The goal, Downes said, is to make movies that are "gonna make an impact on a generation."
"We want to showcase the power of the gospel in people's lives," he said. "... It's so time-consuming to be able to make a movie. Every movie is anywhere from a year to a year and a half or longer. You want to make it count because you've only got so many movies in you."
American Underdog, he said, is "not just about football."
"It was about relationships. It was about faith. It was about a journey of love and self-sacrifice," he said.
Downes was a fan of Warner when the Super Bowl-winning quarterback played for the St. Louis Rams and then the Arizona Cardinals.
"The big thing was he wore his faith on his sleeve," Downes said. "He was very outspoken about it. There were athletes that did it, but not in the way that he did it. And then his commitment to his family with his wife [was inspiring]. After every game, he'd run up into the stands and give her a kiss and all of that. You knew it was real – it was authentic."
The movie follows Warner's rise to stardom but makes football the backdrop to a more significant story: his relationship with his future wife, Brenda.
"I don't get sick of watching the movie," Downes said, pointing out that filmmakers often don't want to watch their own products.
"I took my dad to it," Downes added. "... And we just had a great experience watching it. I had tears in my eyes."
American Underdog is out now on home video.
Related:
American Underdog Impresses with Top 5 Opening, Rare A+ CinemaScore Grade
Kurt Warner Reveals Moment He Realized God Is Not a 'Spare Tire' – 'I Had' it 'Mixed Up'
Kurt Warner Grew Closer to Christ Thanks to His Wife: 'I Was Challenged in My Faith'

Photo courtesy: ©Michael Kubeisy/Lionsgate/Kingdom Story Company
Video courtesy: ©Kingdom Story Company
---
Michael Foust has covered the intersection of faith and news for 20 years. His stories have appeared in Baptist Press, Christianity Today, The Christian Post, the Leaf-Chronicle, the Toronto Star and the Knoxville News-Sentinel.
---
---