5 Major Takeaways from President Trump's 2019 State of the Union Address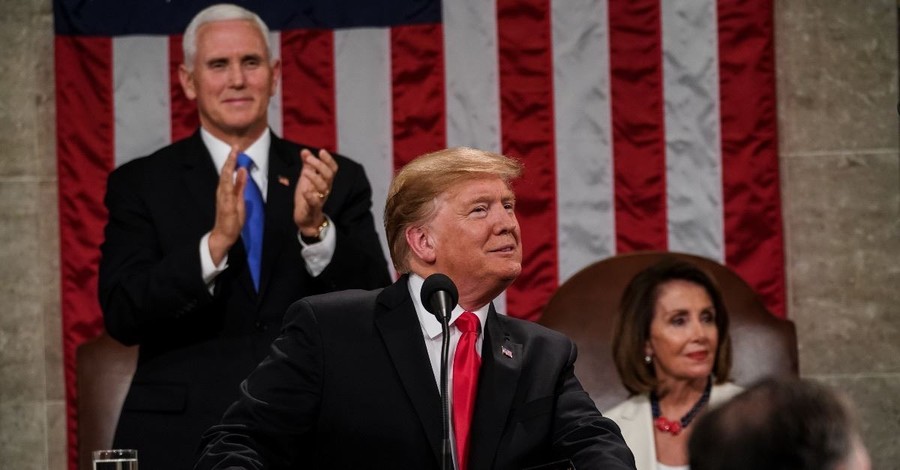 President Trump stood before the new Congress on Tuesday for the State of the Union Address and asked legislators to come together to get stuff done. The call for unity speaks volumes about the current divisive state of the union.
Coming off of the longest government shutdown in American history, the President urged Congress to work with him to come up with a "common sense solution" to solve the border and illegal immigration problem. He started the address saying, "Millions of our fellow citizens are watching us now, gathered in this great chamber, hoping that we will govern not as two parties but as one nation." President Trump then went on to tout the accomplishments of his administration and the collective body over the past two and a half years and inform Congress and the American people of his agenda going forward.
Here are five key takeaways from President Donald Trump's 2019. State of the Union Address.
Photo courtesy:Getty Images/Pool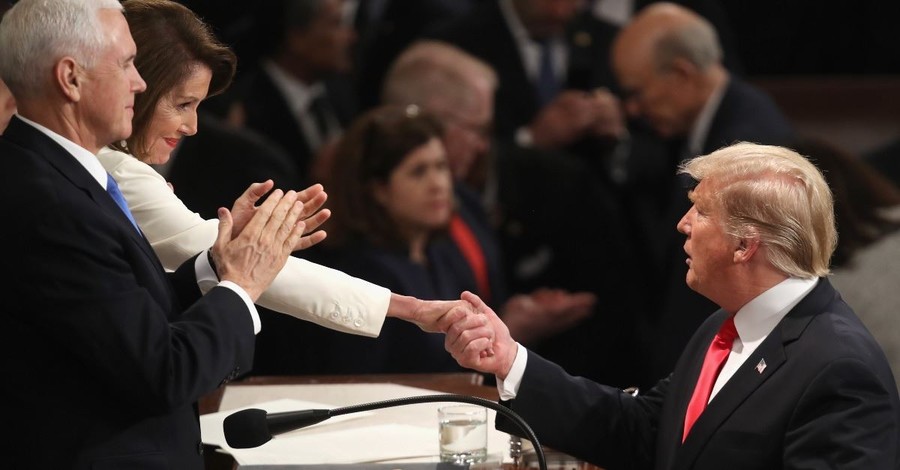 1. Repeated Calls for Unity
As stated above, President Trump stood before the new Congress on Tuesday night and implored them to work together. Ten times throughout his nearly hour and a half speech, the President voiced that "together" was how America can be successful. He said, "An amazing quality of life for all of our citizens is within our reach. We can make our communities safer, our families stronger, our culture richer, our faith deeper, and our Middle Class bigger and more prosperous than ever before." 
"But we must reject the politics of revenge, resistance and retribution – and embrace the boundless potential of cooperation, compromise and the common good," he continued.  "Together, we can break decades of political stalemate. We can bridge old divisions, heal old wounds, build new coalitions, forge new solutions, and unlock the extraordinary promise of America's future. The decision is ours to make. We must choose between greatness or gridlock, results or resistance, vision or vengeance, incredible progress or pointless destruction." President Trump then implored Congress saying, "Tonight, I ask you to choose greatness."
President Trump also mentioned examples of progress made when the parties worked together in the last Congress. He said, "In the last Congress, both parties came together to pass unprecedented legislation to confront the opioid crisis, a sweeping new Farm Bill, historic VA reforms, and after four decades of rejection, we passed VA accountability so we can finally terminate those who mistreat our wonderful veterans." 
He then noted Congress's collaborative effort to pass the First Step Act, which was passed into law on December 21, 2018. He said, "And just weeks ago, both parties united for groundbreaking Criminal Justice Reform."
Photo courtesy: Getty Images/Win McNamee/Staff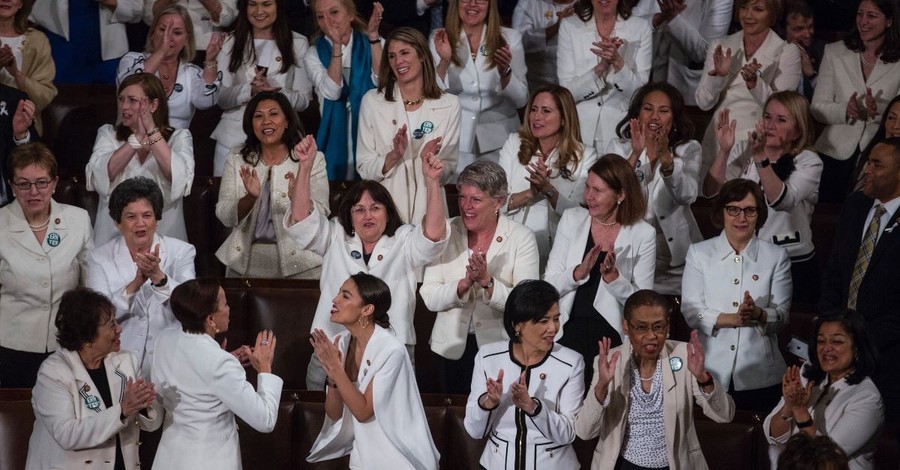 2. An Emphasis on Economic Growth
In his speech, President Trump shouted the country's economic growth in the last two years.
Trump noted that in his two years of Presidency 5.3 million jobs were created – including 600,000 manufacturing jobs – which could ultimately allow for America to import fewer goods and make more product domestically.
The President also noted that almost 5 million Americans have been taken off of food stamps, unemployment is the lowest it has been in 50 years and minority groups including African Americans, Hispanic-Americans, Asian-Americans and women have significantly higher employment rates. According to the President, "African-American, Hispanic-American and Asian-American unemployment have all reached their lowest levels ever recorded. Unemployment for Americans with disabilities has also reached an all-time low. More people are working now than at any time in our history – 157 million."
The President also gave a nod to the largest class of Congresswomen to ever serve in the history of the United States. "No one has benefitted more from our thriving economy than women, who have filled 58 percent of the new jobs created in the last year," President Trump said to a bipartisan standing ovation. "All Americans can be proud that we have more women in the workforce than ever before – and exactly one century after Congress passed the Constitutional Amendment giving women the right to vote, we also have more women serving in Congress than ever before," he added as the Democratic Congresswomen, adorn in all white in solidarity for women's suffrage, erupted with applause and began chanting "USA."
Photo courtesy: Getty Images/Zach Gibson/Stringer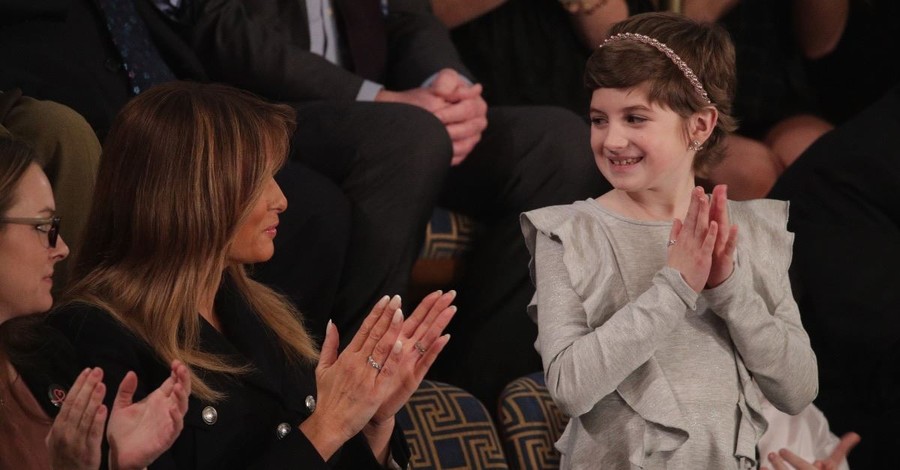 3. A Charge to End HIV and Childhood Cancer
As many political commentators predicted, President Trump noted that the new budget will include funding to help combat and ultimately end HIV and AIDS outbreaks in the U.S. President Trump said, "In recent years we have made remarkable progress in the fight against HIV and AIDS. Scientific breakthroughs have brought a once-distant dream within reach." He continued, "My budget will ask Democrats and Republicans to make the needed commitment to eliminate the HIV epidemic in the United States within 10 years." The president then touted the speeches call for unity, saying, "Together, we will defeat AIDS in America."
Following his call to end HIV and AIDS, Trump also called for increased funding for cancer research. Trump noted that new types of treatments have not been seen by children with cancer for several decades and it is America's responsibility to help find a cure for this devastating disease. President Trump said, "My budget will ask Congress for $500 million dollars over the next 10 years to fund this critical life-saving research."
Photo courtesy: Getty Images/Alex Wong/Staff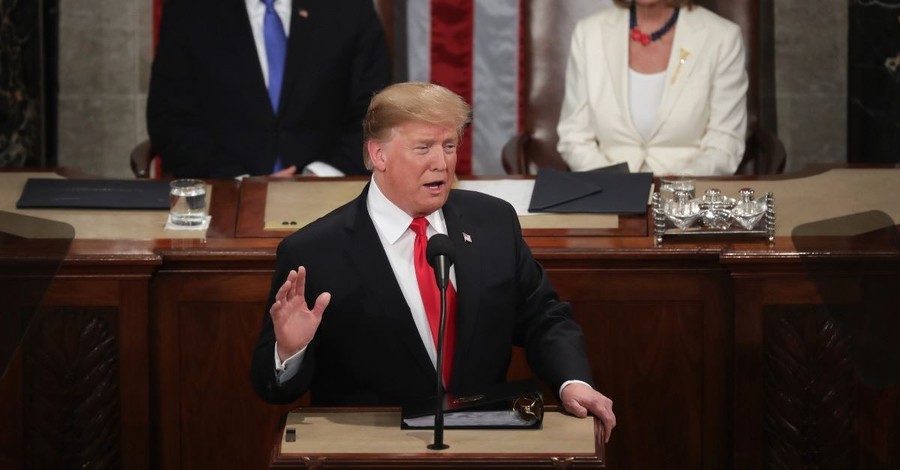 4. A Continued Call for Immigration Reform and the Southern Border Wall
Another anticipated topic was illegal immigration and the border. President Trump took this time to remind Congress that in nine days, unless the government can come to an agreement on funding for the physical barrier on the Southern Border, the government will once again shut down leaving hundreds of thousands of people without pay. Since his initial proposal for the wall, President Trump has ceded to a see-through steel barrier instead of a brick wall and has brought his financial request down from $7 billion to $5 billion. 
President Trump said, "Now is the time for Congress to show the world that America is committed to ending illegal immigration and putting the ruthless coyotes, cartels, drug dealers, and human traffickers out of business."
President Trump then noted that large caravans of immigrants were once again making their way for the U.S. and as such he has increased military presence at the U.S.-Mexico border. He said, "I have ordered another 3,750 troops to our Southern Border to prepare for the tremendous onslaught. This is a moral issue. The lawless state of our Southern Border is a threat to the safety, security and financial well-being of all Americans. We have a moral duty to create an immigration system that protects the lives and jobs of our citizens. This includes our obligation to the millions of immigrants living here today, who followed the rules and respected our laws." 
Later the President spoke about the proposal he has sent to Congress and asked them to work with him to reach a compromise. He said, "My administration has sent to Congress a commonsense proposal to end the crisis on our Southern Border. It includes humanitarian assistance, more law enforcement, drug detection at our ports, closing loopholes that enable child smuggling, and plans for a new physical barrier, or wall, to secure the vast areas between our ports of entry." He added, "This is a smart, strategic, see-through steel barrier – not just a simple concrete wall. It will be deployed in the areas identified by border agents as having the greatest need."
He ended this topic by issuing the charge "let's work together, compromise and reach a deal that will truly make America safe." 
Photo courtesy: Getty Images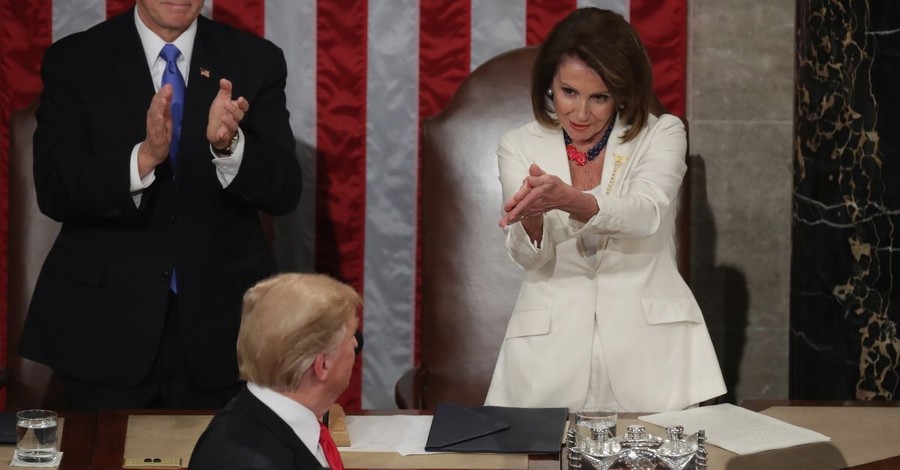 5. Big Things Are Happening with the U.S. in the International Sphere
The President mentioned several things happening on the global stage during the SOTU. Trump mentioned a new trade agreement between the U.S., Mexico and Canada. The trade agreement known as the U.S.-Mexico-Canada Agreement or USMCA will replace the North American Free Trade Agreement which Donald trump labeled a "historic trade blunder" and a "catastrophe."  Donald Trump proposed that the USMCA will be "bringing back our manufacturing jobs, expanding American agriculture, protecting intellectual property, and ensuring that more cars are proudly stamped with the four beautiful words: made in the USA."
President Trump also asked the members of Congress to pass the "United States Reciprocal Trade Act, so that if another country places an unfair tariff on an American product, we can charge them the exact same tariff on the same product that they sell to us."
Sticking with trade, the President mentions that a new tariff was recently imposed on China. A tariff has been placed on $250 billion dollars worth of Chinese goods which has resulted in the U.S. and China working on a new trade agreement. 
In terms of international diplomacy, the President noted that he will be meeting with North Korean Chairman Kim Jong Un again this month and the U.S. is continuing to push for peace on the Korean Peninsula. 
A little closer to home, the President noted that "The United States officially recognized the legitimate government of Venezuela, and its new interim President, Juan Gwydo [Guaido]" 
He added, "We stand with the Venezuelan people in their noble quest for freedom – and we condemn the brutality of the Maduro regime."
Finally, President Trump announced that the U.S. would be withdrawing from a decades-old nuclear treaty with Russia. He said, "The United States entered into a treaty with Russia in which we agreed to limit and reduce our missile capabilities. While we followed the agreement to the letter, Russia repeatedly violated its terms. That is why I announced that the United States is officially withdrawing from the Intermediate-Range Nuclear Forces Treaty or INF Treaty."
He continued, "Perhaps we can negotiate a different agreement, adding China and others, or perhaps we can't – In which case, we will outspend and out-innovate all others by far."
Read a transcript of the SOTU address here or listen to it below.
Photo courtesy: Getty Images/Chip Somodevilla/Staff
Video courtesy: The White House
---