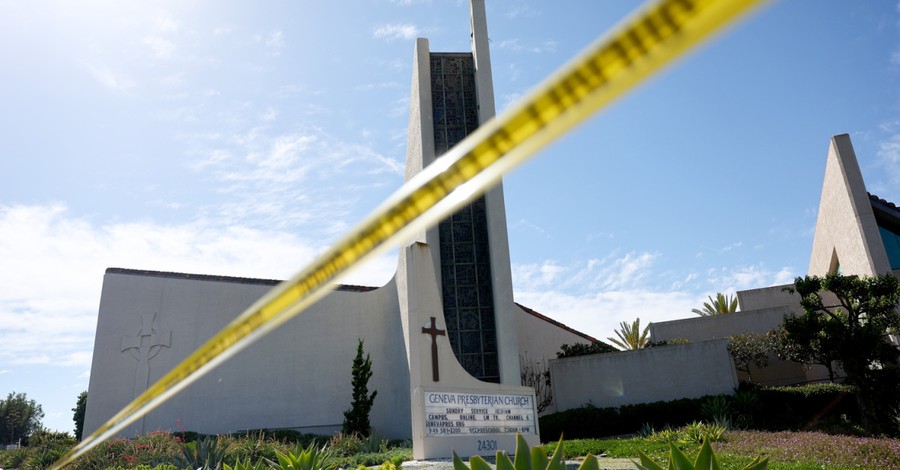 One person was killed, and five others were injured when a gunman opened fire inside of a Southern California church on Sunday.
According to the Associated Press, the gunman, described as an Asian man in his 60s, walked into Geneva Presbyterian Church in Laguna Woods, Orange County, at around 1:30 pm and opened fire on the 30 and 40 Irvine Taiwanese Presbyterian Church members gathered for lunch following a morning church service.
The LA Times reports that Irvine Taiwanese Presbyterian Church has been holding services at Geneva Presbyterian Church for the last 10 years.
Parishioners reportedly worked together to hog-tie the suspect before authorities arrived.
"That group of churchgoers displayed what we believe is exceptional heroism and bravery in intervening to stop the suspect. They undoubtedly prevented additional injuries and fatalities," Undersheriff Jeff Hallock said in a statement. "I think it's safe to say that had people not intervened, it could have been much worse."
Among the wounded victims were four Asian men ages 66, 75, 82, and 92, and an 86-year-old Asia woman. The AP reports that four of the five were shot and are suffering from critical wounds.
Sheriff's Office spokesperson Carrie Braun said the majority of the people inside the church at the time of the shooting were believed to be of Taiwanese descent.
Information about the murdered victim has not been released at this time. Police, who recovered two handguns at the scene, are also working to determine a motive behind the shooting or if the shooter was associated with the church in any way.
Agents from the FBI and the Bureau of Alcohol, Tobacco, Firearms and Explosives also responded to the crime scene to aid the Sheriff's department.
Initially built as a senior living community, the city of Laguna Woods has a population of about 18,000 people. Of those living in the city, more than 80 percent are over 65 years old.
Several Catholic, Lutheran and Methodist churches and a Jewish synagogue are all clustered in the area Geneva Presbyterian Church is located.
This mass shooting was one of several deadly incidents over the weekend, including a mass shooting at a Buffalo, New York, supermarket that left 10 dead and three injured.
Related:
10 Killed, 3 Injured in Mass Shooting at Buffalo Supermarket
Photo courtesy: ©Getty Images/Mario Tama/Staff
---
Kayla Koslosky has been the Editor of ChristianHeadlines.com since 2018. She has B.A. degrees in English and History and previously wrote for and was the managing editor of the Yellow Jacket newspaper. She has also contributed to IBelieve.com and Crosswalk.com.
---
---