Robert Wayne
| Crosswalk.com Correspondent
| Wednesday, October 5, 2005
The horror picture played out like theater in the round. Terror surrounded Craig Snow. "You turn 360 degrees and see devastation … people who are traumatized," said Snow, area coordinator for the Mercy Ships Disaster Response Team working in southern Mississippi to bring aid to victims of Hurricane Katrina.
"When I arrived (a month ago) it was like witnessing the aftermath of bombs that had just been dropped. It was beyond comprehension," Snow said. "Along the coast and inland it was mind-boggling. You're looking at where shopping centers used to stand and now it's just parking lots and rubble."
Amid the destruction, near the center of the chaos, a mainland miracle was manifesting itself. And continues to do so. Docked in its home port of Chickasaw, Ala., near Mobile, not far from where the eye of Katrina came ashore, the Caribbean Mercy survived the hurricane with nary a scratch.

Normally used to serve the poor and needy in the Caribbean and Central America, the ship was stationed – some would say providentially so – to provide relief closer to home.
"We're certainly not denying that (it was a miracle). I don't know if God caused the ship to be there at this time, but he is still in the redemption business, and that's one of the things he wants to use us for," said Mercy Ships Disaster Response Team leader Mark Thompson, who is based in Texas.
After Katrina struck, the Caribbean Mercy became a staging platform for Mercy Ships personnel who were being called to serve in the Mobile and Gulfport, Miss. areas. Having the ship already on site enabled Mercy Ships to immediately provide support without struggling through the delay of finding shelter for volunteers. That delay would have been great, considering no shelter was to be found.
Never before had a Mercy Ships vessel been called upon to help provide disaster relief in the United States. The organization, founded in 1978, typically services ports in developing nations. Each year more than 2,400 career and short-term volunteers serve with Mercy Ships, which has three hospital ships and offices in 17 countries.
But the mission in Mississippi was no different than relief efforts in other parts of the world.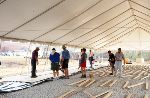 "It's reconstructive redevelopment. We're working with the local church body to come alongside those in need and empower them to be a spark or catalyst for recovery in their own area," Thompson said. "We're committed for the initial six to 12 months. Our assessors believe there's enough work for at least six months."
Mercy Ships does not typically engage in first response help, but since the Caribbean Mercy was already on site, and because so many volunteers rushed in to provide aid on their home soil, the organization found itself filling a first-response role.
"The first couple teams did yard clean-up and digging out, and we're still finding small pockets, small burgs that were overlooked by other agencies," Thompson said, adding that Mercy Ships volunteers have been busy rebuilding roofs, replacing damaged siding and removing moldy building materials.
Now, a month into the process, the mission has changed.
"What is needed now is community development," Snow said. "We look at it in terms of ... needing to engage people in their own recovery and not just do it for them."
That is the overall vision of Mercy Ships – empowering communities to sustain themselves through local participation.
"It's just part of our DNA to think through a situation of this type of magnitude, to see it through the lens of, 'OK, how do we stimulate recovery and have it be born through the people who are needing it?'" Snow said.
No doubt that Mercy Ships has encountered some unusual circumstances in trying to minister in Mississippi, said Glenn Strauss, Mercy Ship vice-president for Health Care Services and International Programming.
Whether offering medical assistance in Sierra Leone, Africa, or providing care for amputees in Nicaragua, Mercy Ships is more accustomed to entering a country and being THE sole aid conduit. 
In Mississippi, however, the process is more involved because Mercy Ships is only one piece of the puzzle.
"One of the things that is so different about this is that there is so much greater availability of resources that we have to be careful about coordinating with other resourcers, like insurance, doctors and nurses. We have to be wise about how we do that," Strauss said. "If we have a well-meaning doctor that goes into an area that already has a hospital working, and it isn't coordinated, then the patient could actually suffer."
It has been something of a learning experience, Strauss said, explaining that Mercy Ships is sensitive not to force its way into every area of disaster recovery "just because we know how to do it."
Ultimately, Mercy Ships has seen an outpouring of support that blows away anything witnessed in other parts of the world.
"The fact that this happened so close to home has changed the dynamics in a good way," Strauss said. "People do care about what's happening at home and as a result we've seen a number of people who want to volunteer. Our phones were ringing off the walls the first week after the hurricane struck."
Mercy Ships is in the business of finding hope among the ashes, so it's no surprise that the organization sees much potential positive coming from the hurricane disaster.
"Our prayer is that the U.S. will be even more compassionate to the chronic and desperate needs of places like Liberia and Sierra Leone," Snow said. "When you're wounded yourself, it moves you toward greater compassion for other places. You think, 'Yeah, now I know what it's like not to have drinking water.'"



Mercy Ships, a global charity, has operated a growing fleet of hospital ships in developing nations since 1978. Following the example of Jesus, Mercy Ships brings hope and healing to the poor, mobilizing people and resources worldwide. Anyone interested in volunteering or learning more can call 1-800-MERCYSHIPS or 903-939-7000, or visit www.mercyships.org