Eva Marie Everson & Miriam Feinberg Vamosh
| B.A., Education; M.A., Archaeology and Heritage
| Tuesday, May 08, 2007
Tuesday, May 08, 2007, the 200-seat Senate Hall at the Hebrew University of Jerusalem was filled to capacity and they were standing five deep in the doorway - media from Israel and around the world, archaeologists, and students. When Professor Ehud Netzer - veteran scholar of Masada, Hazor, Jericho, and for the past 36 years Herodium where he has sought Herod's tomb - calls a press conference announcing an "important find," it can only be one thing. Prof. Netzer did not disappoint his audience. "This is doubtless the tomb of Herod the Great," he said.
A Brief History and Current Events The volcano-shaped mound of Herodium, rising 2,460 feet above sea level southeast of Bethlehem, can still be seen for miles around. Herod the Great, the Herod of the nativity story, built the entire mound, with his palace inside the summit, to mark the site of one of his most important battles. In 43 BC his mother, his sister, his fiancé the famous Mariamne, and other member of his family along with himself were forced to flee Jerusalem when the Parthians besieged the city. On his way to Masada, his mother's carriage overturned near here and he feared for her life. The Parthians caught up to him, but he overcame them in what became a crucial victory on his way to receiving the crown of Judea from Rome in 37 BCE.
Over the years, Netzer and his team expanded on excavations carried out in the 1960s, and the Israel Nature and Parks Authority (INPA) opened the site to visitors. For Christians, the steep climb to Herod's palace, where they stand atop its towers for an incomparable 360-degree view of the Judean desert, has special significance when they spy Bethlehem to the west. It's easy to imagine Herod pacing these same battlements, brooding over this same view. For Herod, surrounded by enemies, real and imagined, it was a disturbing one (Matthew 2:3). Micah the prophet had said of Bethlehem, "From you will come one who will rule Israel for me. He comes from very old times, from days long ago..." (Micah 5:2).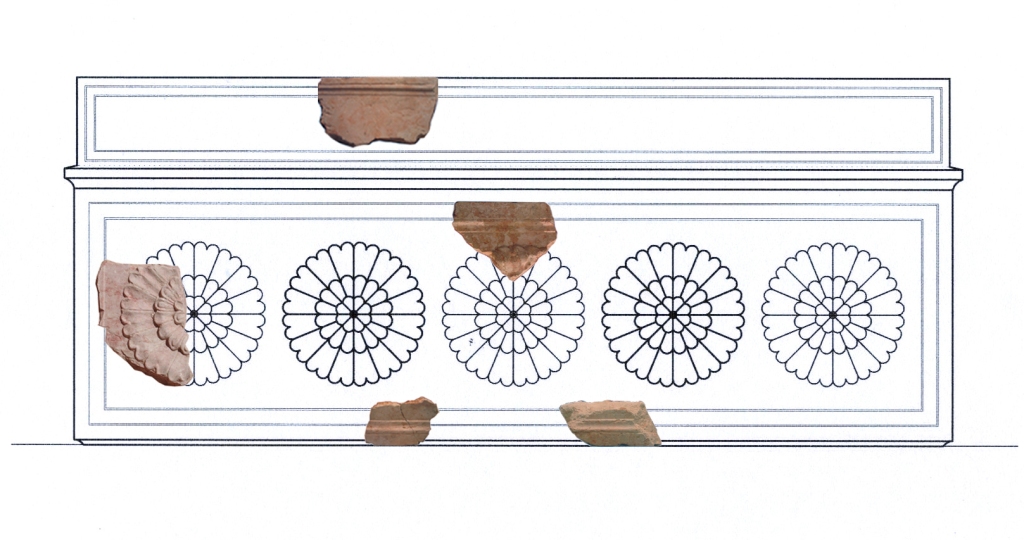 Once In a Generation
The find of Herod's tomb, which INPA chief archaeologist Dr. Tsvika Tsuk, calls "once in a generation" was a long time coming, considering that the great chronicler of the period, Josephus Flavius places it unambiguously at Herodium and describing the funeral entourage in colorful detail:
"The body was carried upon a golden bier, embroidered with very precious stones of great variety, and it was covered over with purple as well as the body itself; he had a diadem upon his head and above it a crown of gold. He also had a scepter in his right hand. About the bier were his sons and his numerous relations; next to these was the soldiery distinguished according to their several countries and denominations...these were followed by five hundred of his domestics, carrying spices. So they went eight furlongs to Herodium for there by his own command, he was to be buried; (Antiquities of the Jews 17.8.3).
Scholars initially thought Herod's body might have been interred at the base of the massive western tower. This, Netzer explains, he dismissed from the outset. Herod was Jewish, after all, and Jews, even royal ones with allegiance to Roman culture – did not bury their dead inside of their residences. In the mid-1970s, Netzer turned his attention to the base of the mound, where he brought to light a swimming pool and other elements of what Josephus called the "pleasure grounds" (Wars of the Jews 1, 21, 10). Here Netzer found a monumental building that many began to think must be the long-sought tomb, especially because it was accessed by a road some 1,000 feet long and 90 feet wide that he dubbed the "funerary track." Until about a year ago, they continued to believe this must be the tomb, although the building yielded no remains of a sarcophagus (stone coffin) that could hint as its use as a royal tomb.
Among the finds of recent years were long tunnels on the western slopes leading from the center of the mound to the top and used by rebels in the second-century CE and opened to visitors in the 1980s. Other openings here led to water cisterns. The excavators knew a small, illegal dig had taken place here in the 1960s, perhaps seeking the treasures described in the Dead Sea Scroll known as the Copper Scroll, or perhaps seeking Herod's scepter. Noticing the presence of a wall here, Netzer and his team began to consider that further along that same area, in a direct line with the huge round tower above, they might find the tomb. Here they found part of a wall that may have been connected to a monumental staircase to the tomb structure. Within a cistern, they discovered a huge wall obviously built to support a structure built on top.
Stones of Witness
"The stones speak for themselves," Netzer says in describing another exciting find: one entire side of the podium (see photo) he believed was part of the tomb structure. Its building blocks are of typically fine Herodian design, with only two millimeter spaces between them and not a drop of cement necessary. Pieces of stone funerary urns were also found. Among Gentiles these were used to hold ashes; here they probably had a decorative function, symbolizing death. Additional persuasive pieces of evidence that this is a royal tomb are decorated pieces of an enormous stone sarcophagus that have begun to emerge. One has a rosette design (see photo) known from only one other place – the Tombs of the Kings in Jerusalem. Significantly, Netzer says the sarcophagus had been smashed to bits. This was not the work of grave robbers, he says, but was carried out in anger by someone with a grudge against the king. And that group, as we know, was a very large one.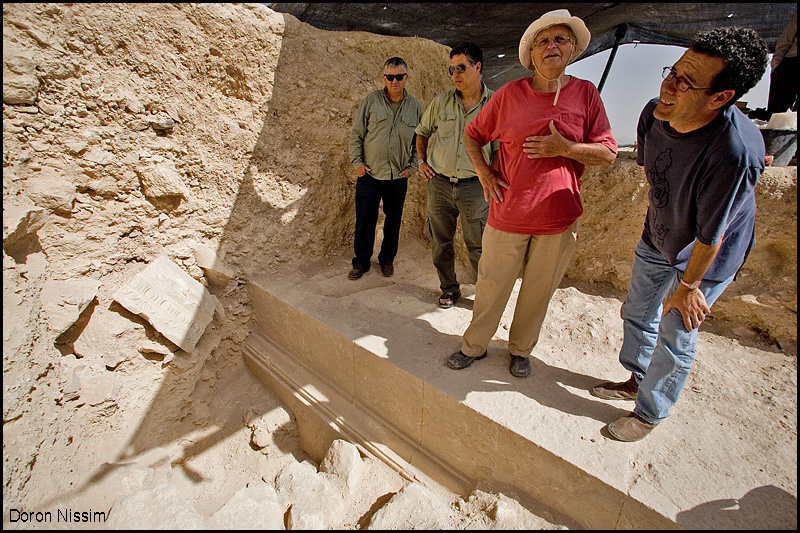 Netzer, who stresses the dig will continue, seeking further evidence of Herod's burial here, says for him one its most exciting aspects is the opportunity to excavate with a copy of Josephus in one hand, and bring it to life the ancient chronicle.
The Personal Mystery Unfolds
"There is no wisdom, no insight, no plan that can succeed against the LORD." --Proverbs 21:30
What marks a man's life more than his grave? Or, in Herod's case — and kings such as he — tombs? Israel is dotted with sites commemorating the graves, or tombs, of countless famous and infamous biblical characters. Daily, visitors and the faithful file by them, kneeling at many and praying to God for favor.
It is doubtful anyone will do the same for Herod's Tomb, though no doubt they will come.
When David heard that King Saul and his son Jonathan had died, he lamented: Your glory, O Israel, lies slain on your heights. How the mighty have fallen! --2 Samuel 1:19
Though Herod was hardly the "glory of Israel" he made certain he was considered "mighty," if nowhere else in his own mind. Yet, for all his narcissism Herod's greatest fear seems to have been in the birth of a baby. Hearing that one had been born who would be "king of the Jews" (Matthew 2:2), Herod ordered the genocide of all baby boys born in Bethlehem and its vicinity, two years old and younger. "Rachel," the Bible tells us, wept for her children and refused to be comforted. (Matthew 2:18)
Why would Herod be so afraid of one child? Because he understood the "power of one." In Herod's day, for 1500 years the story of Moses had given testimony of what "one" can do. After all, he was "one baby boy who got away," but he led Israel out of captivity and back into the Promised Land.
What, then, might this recently born "one" do?
What This Means to Me… and You
Sometimes — for the average American especially — its difficult to comprehend what a find like this means. Our history is relatively young. As Christians, even, it might be a little confusing. What does this have to do with me? Allow me to explain:
Herod believed — fervently believed — in his own press. History and archeological sites in Israel prove this beyond doubting. But Herod could not succeed against the plans of the Lord. Though he may have gone to his tomb believing that he'd done so, Christians will come with a different knowledge and faith: knowledge in the sovereignty of a living God and faith in a baby boy who grew to be the "King of the Jews."
The Irony
Ironically, there are two places in Israel that commemorate the "tomb of Jesus." And both of them are empty.
Truly, no man — no matter how great he thinks he is — can thwart the plans of God.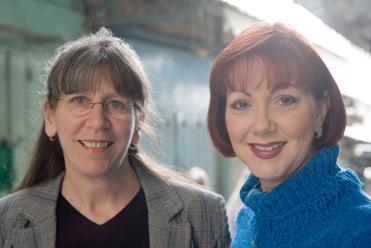 Eva Marie Everson is a regular contributor to Crosswalk.com. She is an award-winning author of numerous books and is currently writing a work about Israel for Thomas Nelson with her friend Miriam Feinberg Vamosh, based on articles written about Israel in 2002 for Crosswalk.com. www.EvaMarieEverson.com
Miriam Feinberg Vamosh is the author of Women at the Time of the Bible (in press); Food in the Bible: from Adam's Apple to the Last Supper; the best-selling Daily Life at the Time of Jesus; Israel, Land of the Bible (Palphot) and Pathways Through The Land of the Hart (Gefen). She is also the author of numerous articles on Holy Land history and lore, and guides to Israel's heritage sites. She a veteran tour educator specializing in Christian pilgrimage. A native of Trenton, New Jersey, Miriam, has lived in Israel since 1970.
Photo Captions
1 (Lead article image). Excavating the foundations of Herod's tomb, Monday, May 7. (Doron Nissim)
2. The rosette and other finely worked pieces found so far and an artist's reconstruction of the appearance of the kingly sarcophagus they came from. (Courtesy Hebrew University)
3. Professor Ehud Netzer, center (in red shirt), and colleagues, on the podium of Herod's tomb, Monday, May 6. (Doron Nissim)
4. Herodian (Doron Nissim)
Photo Credits
Doron Nissim ( www.pbase.com/doronnissim/profile ) is the official photographer for the Israel Nature and Parks Authority
One of the Holy Land's great archaeological mysteries, involving one of the most malicious and yet mesmerizing characters to ever cross its historical stage, the murderer of the innocent children of Bethlehem, has now been solved: the Tomb of Herod the Great has been found.