Robert Wayne
| Crosswalk.com Contributing Writer
| Tuesday, December 12, 2006
As the man steps across the small rivers of urine that stream down the streets of La Paz, Bolivia, his eyes never stop moving as he both searches for helpless children and watches for scavenger thugs.
It is dark, maybe 2 a.m. Before night ends, there's a good chance one or more of the street children won't have survived.
The man, a graduate of Harvard Medical School, never saw it happening this way.
"When I went to medical school as a pediatrician, I never thought I would go to more funerals than births. That's the struggles we have," said Dr. Chi Huang, a 34-year-old doctor at Boston University Medical Center who eight years ago founded the Bolivian Street Children's Project.
Huang's work is not for the weak-kneed. He should know, because his own knees wobbled in 1998 when he first began ministering to the street people in La Paz.
"About 30 percent of our girls have been sexually abused. Sixty percent are with child or pregnant. About 98 percent of the boys use inhalant drugs – paint thinner – and 90 percent of them have been abused in some way," Huang said. "When I grew up I heard about and knew about evil, but I didn't see it until I went down to Bolivia."
Huang nearly burned out that first year, coming close to giving up because the situation was so desperate and the environment so physically taxing. But he knew that if he left, no one would step forward to care for the "disposable kids" who comprise about 4 percent of the La Paz population.
"These are the marginalized of the marginalized," he said of the street people, who include newborns all the way up to 30-somethings.
Some of them have been abandoned.
"There is a high mortality rate among fathers and mothers, so the children go off to live with uncles who can't take care of them," said Huang, who has written a book about his experiences titled When Invisible Children Sing, in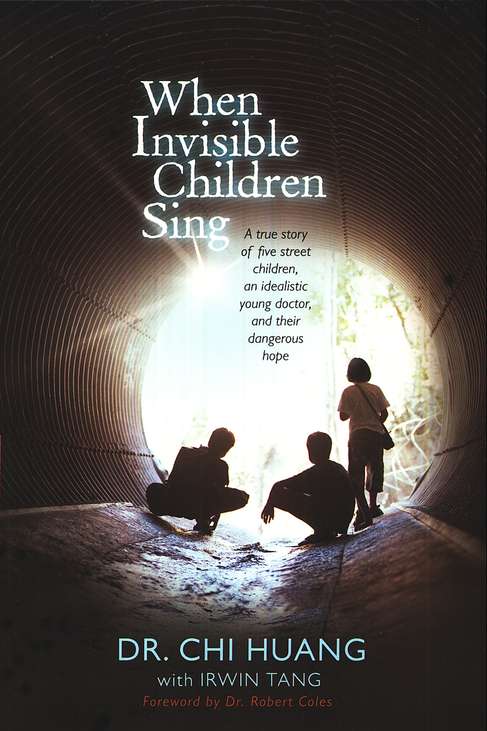 which he chronicles stories told to him by the children.
Some are runaways who left home to escape physical or sexual abuse.
Some, sadly, actually choose to live in the sewers because it's where they have grown up. The street way of life is passing from generation to generation as children have children of their own.
It wasn't always this way. Until about 1985, boys made up the vast majority of the street population, but even their numbers were much lower. Urbanization, however, caused parents to send their kids out for jobs, and suddenly girls began to hit the streets as prostitution became the easiest means to make money.
"Once they see the advantages of being on the streets – no chores, eat candy and play – then they get involved in the street culture and don't come back," Huang said, adding that the fallout is severe.
"Last year we lost about 10 percent to suicide or murders," he said.
As if surviving on the street isn't hard enough, the children also must contend with adults, including police, who prey upon the defenseless. The situation has become so grave that the Street Project workers act as human shields.
"We have a policy at night when we go out that we will be the first to take the beating," Huang said. "We feel these are our own kids."
Few of the stories end well, but there remains hope.
"I get joy when one of the kids says he wants to become a human rights lawyer 'Because the police didn't protect me 10 years ago,'" Huang said. "Others want to become businessmen so they can learn IT issues. Where my passion lies is to take a small number of kids and give meaning to their lives. Fifty years from now, if I'm able to change 60 kids, then maybe like Abraham, maybe the whole nation will be changed."
Huang, who lives in Boston but spends summers in Bolivia, has matured through his experiences. The naive boy from Columbia, S.C. now better understands the credible discomfort that accompanies human suffering. But he also has a better grasp that he is not in control of the situation. He can supply medical treatment and counseling, but God is really running the show.
"So I can't take any of the credit," Huang said.
Perhaps not, but the doctor deserves to be thanked for establishing two group homes – the Bureau Home for Street Boys and the Yassel Home for Street Girls – that house 70 children. A third home is in the works.
What Huang wants and what the children need is for the Street Project to receive attention, which explains why he wrote the book. The world needs to know about the tragedy playing out on the streets of La Paz, he said.
"There also is this, if people are so moved. They can either adopt a kid or adopt a home, so we can finish our third home," he said, adding that each home costs $30,000 a year to operate.
The alternative is not an option: small boys begging for money or shining shoes for minimal wages. Older boys charging 50 cents to watch over a parked car, and breaking into the vehicle themselves if they don't get the money. Girls giving up their bodies for a pittance and then cutting themselves to release the tension created by self-hatred.
It is as much death as it is life. But things would be even worse without the doctor who walks the streets on the behalf of others.