Robert Wayne
| Crosswalk.com Contributing Writer
| Thursday, November 2, 2006
Janet Lynn Mitchell traced her chronic pain to an unstable right knee that resembled a road map of scars and an atlas of dead-end tissue produced by 10 surgeries over 15 years.
But the knee that hurt even worse was the one she took in the gut upon learning of her doctors' lies and deception. Mitchell felt betrayed by her surgeons, the system and, perhaps worst of all, by God.
Anger rose inside the California woman like lava through an active volcano after learning that her twisted leg was not the result of "the way God had made me," as one doctor had put it, but because of a serious mistake during surgery. One of the doctors, who had never performed that particular surgery, accidentally cut into her bone at the wrong angle, slicing stabilizing knee ligaments. During the ensuing cover-up, which included unsuccessful surgeries to try to fix the original mistake, the two physicians used Mitchell's faith against her.
"They took something that they knew was genuine (my faith) and precious as a way of escape from their mistakes," Mitchell said recently of the fraud committed against her following the 1977 knee surgery.
In essence, the two orthopedic surgeons blamed God, not themselves, citing a congenital hip problem as the reason for Mitchell's discomfort.
Only when one of the doctors confessed 15 years later – he later attempted to retract his incriminating statement – did Mitchell discover the ugly truth. At that moment in 1992, the waves of anguish washed over her, bursting her faith and testing her powers of forgiveness. Mitchell chronicles the journey through pain and anger toward mercy and emotional healing in her new book Taking a Stand, which describes how she bounced back from her doctors' debilitating mistakes to become an advocate for patients rights and protections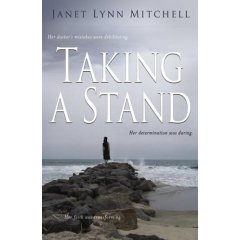 .
"People have such hope in their doctor. It's either that or God, and there's no hope after that many times," said the 35-year-old Mitchell, who was 16 when the first surgical error was made. "We need to educate ourselves to expect excellence from our doctors, but not perfection."
Part of that education includes studying the ins-and-outs of the medical system to become as informed as possible about patients' rights and responsibilities.
Mitchell offers nearly two dozen tips on how to help prevent the kind of fraud that led her to embark on a seven-year lawsuit against her surgeons that ultimately led to laws that better protect patients.
"If we had gotten second opinions from outside the medical community we might have discovered more," she said. "And if a mistake happens, the state medical board needs to know about it, because maybe the doctor needs to take a class, because maybe he'll make the same mistake on 30 other people."
Mitchell stresses that she is not pro-lawsuit.
"If my doctors had come to me saying, `We made a mistake,' I would never have sued them," she said. "I would have put my arms around them and said, 'Thank you for trying.' But the fact is that they hid the mistake and it turned into medical fraud. When I saw the amount of deceit, it was blatant. It wasn't just a mistake that was pushed under the carpet."
Instead, the error was shoved into the darkest parts of a basement and hidden under lock and key. Medical records were altered and destroyed. X-rays came up missing. And the lies became deeper and darker.
"I think the statistics show that most people who have medical mistakes don't sue, but the way I as an individual can help the system is by taking care of the temple of the Holy Spirit that God has given me, because he has given me responsibility for it," she said.
Following that thinking, Mitchell urges patients to do more research when selecting a doctor than they do when buying a car.
Ultimately, however, mistakes will happen, whether in medical labs or on the operating table. It's how patients deal with those mistakes – internally – that often prove to be more damaging than the mistake itself.
In the aftermath of her botched surgery, Mitchell reacted with anger that turned to bitterness toward her doctors and lack of trust in God, who she grew up believing would always protect her.
"I was so angry, which surprised me, because it held no logic," she said. "Worse things had happened to other people in their lives. And I kept thinking that God had to be disappointed in me because I couldn't control my anger."
At one point, Mitchell's good friend brought balloons with instructions to write out what the doctors had done, attach the note to the balloons and then release them as a symbol of forgiveness.
"She saw that it wasn't my legs that were crippling me but that it was my anger," Mitchell said. "She told me, 'Just forgive and you'll be the Janet I know.' But I was untrusting. I didn't even trust the grocery store clerk."
Mitchell hauled the balloons to a closet, where they remained for nearly 18 months.
"I forgot about them, then when I finally saw them I realized my heart was as shriveled as those balloons," she said.
Through counseling sessions with psychologist/author H. Norman Wright, the wounded Mitchell learned how to grieve – and how to use her anger for good by taking her case to court.
"Christ spoke words of forgiveness on the cross. It was while he was still hurting and being persecuted that he forgave them," she said. "I learned that forgiveness is a choice, not an emotion."
While Mitchell won the case, the doctors pretty much went unpunished, shielded from an investigation by the California state medical board because the statute of limitations had run out.
No matter. Mitchell remains free from the bitterness that once held her.
"I am not living in a prison of my past," she writes in her book. "My life is proof-positive that God fits even mistakes into His plans."